Check our guests reviews on Tripadvisor & their experience on Instagram


What's your favorite thing about Split?
"Favorite thing about Split?" That's a question tourists often ask us. 
As locals living in the second largest city in Croatia and metropolis of Dalmatia, it is one of the most frequent questions we get. Especially since we work in tourism. 
Warm climate, numerous beaches, stunning Diocletian's Palace merged with the old town, spacious promenade, lovely park forest Marjan located close to the center as well as crystal clear Adriatic Sea, delicious mediterranean cuisine and summer festivals are just some of the reasons why Split is also called the "Pearl of Adriatic".
When you add rich history of Croatia, vibrant nightlife, new shopping malls, diverse selection of accommodation options as well as numerous islands in front and UNESCO protected towns around Split, you have a formula for unforgettable vacation in Croatia. 
It is no wonder Roman emperor Diocletian choose this stretch of land for his retirement home and built a palace here.

Tourists often ask us where is the palace but it is so large that people don't even realise they are inside of it. It ocupies 30,000 square meters which makes it one of the most imposing ancient Roman structures in existence today.
Best beaches in Split
If you go for a short walk from the center, you will find plenty of beaches to choose from, including sandy beaches and especially pebble beaches.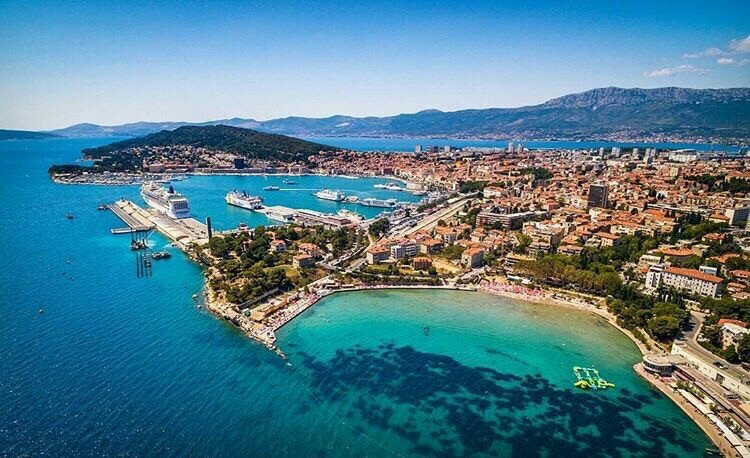 Whether you prefer family beaches, party beaches, beaches with plenty of shade or you just want to sit in a nice cafe bar and enjoy the view and scent of pine trees and the sea, you have plenty of options.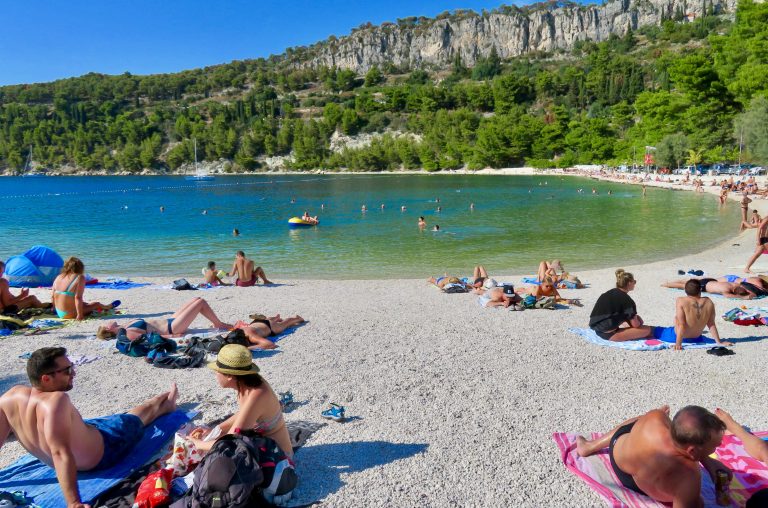 That being said, some beaches are located bit further from the center but they are all easily accessible. Maximum 10 to 15 minutes away from the center, with a local bus, car or scooter.

Islands & National Parks around Split
Once you explored the Diocletian's Palace and the old town, relaxed on the beach of your choice, enjoyed in stunning vistas from the top of Marjan hill, had a fun night out or a delicious dinner in one of many restaurants, there are still a lot of amazing places left to visit. 
Maybe not this year but who said this is "one time visit-type of town". Since we are born and raised here, we will show you all the best places and secrets which only locals know. Once you get to know our home, you may want to come live here. :)
You might decide to buy a house in one of the towns that surround our ancient city such as Trogir, Omiš, Solin, Stobreč or Kaštela. If you prefer the islands, you have Šolta and Brač, located less then 1 hour away with a ferry.
These small towns and mid Adriatic islands embody the spirit of mediterranean as it once was. 

If you go a bit further, you will find renowned Hvar island, famous Blue Cave and Stiniva beach on Vis island as well as stunning National Park Krka, all located between 1 to 2 hours away from Split, either with a car or a speedboat. 
---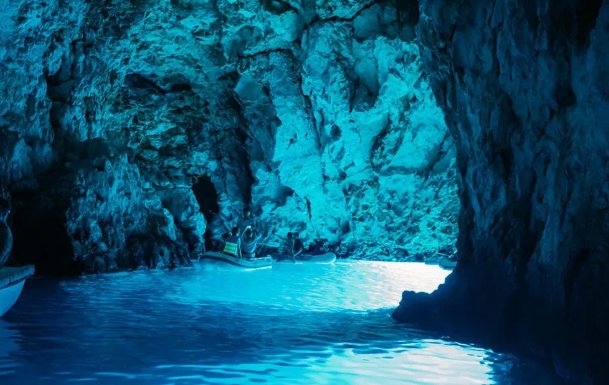 Blue cave is one the most stunning locations in Croatia and natural phenomena located on small island of Biševo, near Vis. 
It is also part of Five Islands Tour which combines stunning locations around Vis and most popular destinations from Hvar archipelago, packed in exciting full day adventure. 
Blue cave and Five Islands Tour is the most popular excursion from Split which goes every day.
You can even choose between 3 types of speedboats, budget, standard and deluxe. Whichever suits you best. If you are a group of 7 or more people, that would put you in a good position for private tour to Blue Cave.
---
National Park Krka is picturesque paradise located only 1 hour and 30 minute drive from the second biggest city in Croatia.
It is preserved ecosystem with seven waterfalls, exceptional natural value, crystal clear water and stunning scenery which will leave you speechless.
Krka Waterfalls are intertwined with signs, wooden bridges and walkways which will help you explore every part of this mesmerizing place.  
It is wonder of nature you simply have to visit which is why it is also our most popular land excursion from Split. Also, with private tours to Krka Waterfalls, you can visit other places and towns along the way.
---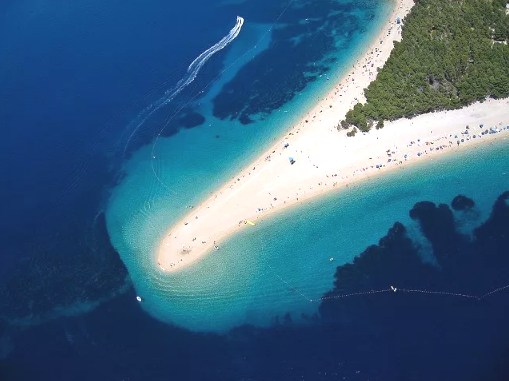 Zlatni rat or Golden Horn beach is one of the most famous beaches on this side of Adriatic. 
Covered in small golden pebbles, beach protrudes over 500 meters out into Adriatic Sea.
You can visit Zlatni Rat beach and its town of Bol with luxury yacht during one day cruise from Split, along the Adriatic islands.
You can also take a ferry to Supetar and rent a car, if you don't have your own, or take a bus to the other side of the island.
Just know that Zlatni Rat is not a sandy beach although it might seem on some pictures. Beach is composed of small pebbles which don't diminish its attractiveness.

---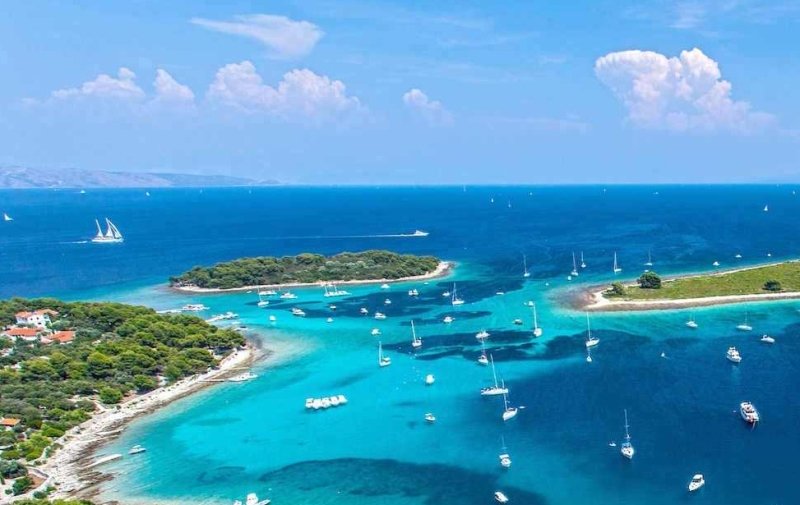 If you prefer secluded locations and picturesque scenery, you will fall in love when you see Blue Lagoon and nearby islands, Čiovo and Šolta. 
These places are less crowded with tourists and stunningly beautiful. They also provide great diving spots, crystal clear water and peaceful locations for escape from everyday life. 
Blue Lagoon at Drvenik island, you can visit only with boat tours since there is no direct ferry line from Split.
That being said, Three Islands Tour with a big boat and Half Day Tour with speedboats both stop at the Blue Lagoon. It is up to you to decide which option suits you better.
---
Although Split's favorable geographical position in the middle of Dalmatia makes it great location for vacation in Croatia, if you want to visit Dubrovnik on the south or Plitvice lakes on the north, you would lose 3 to 4 hours on the road. 
However, exploring old town of Dubrovnik (picture above) or amazing Plitvice Lakes (picture below) is worth your time since the sights are amazing. 
Whether you decide to explore Croatia with your own car, take an excursion or book a private tour, you will enjoy in unforgettable experience.

Split Travel Guide
We will show you different accommodation options in Split, the best restaurants, the biggest festivals, top places for fun night out and much more.
Since many tourists asked us about the weather, we will tell you what to expect, so you can choose the date of your visit which suits you best.
At the end of the day, you will know how to get here, when to come, where to stay, what to do, which places you want to visit and all the local secrets we learned by working and living in Split for more then 30 years. Let us help you have the best possible vacation in Croatia.
---
---