Check our guests reviews on Tripadvisor & their experience on Instagram


Four Islands Tour: Zlatni Rat & Hvar Tour with a Speedboat
Four islands tour is the best suited for people that want to relax on the most famous beach of Zlatni Rat and visit renowned Hvar island. Not only that you travel with a speedboat but we also stop on beautiful Palmižana beach located just in front of Hvar, on stunning Paklinski islands.
WHY YOU SHOULD JOIN FOUR ISLANDS TOUR
In case you already visited caves and beaches on Vis or you just want to visit Zlatni Rat beach and Hvar island, this is the tour for you.
Besides these top locations, we also stop on small group of islands located just in front of Hvar, called Paklinski or Pakleni islands. There you can find several beautiful beaches from which the most popular is Palmižana.
Depending how long we stayed on previous locations, if we have more time on our way back to Split, we also stop at Milna on Brač for wine tasting or on Šolta at a secluded bay.
BOL & ZLATNI RAT BEACH
Zlatni Rat, Golden Cape or Golden Horn beach is the most popular beach on this side of Adriatic, thanks to its unique and ever changing shape. In case you don't want to cool down in the sea, you can relax in one of caffe bars located in the shade of pine trees, at the middle of the beach. 
If you want to take better pictures of Zlatni Rat, take a stroll down the promenade overlooking the beach. The promenade connects Golden Horn beach with town of Bol. Bol is small picturesque town and the only settlement on the south side of Brač island.
HVAR - THE MOST POPULAR ADRIATIC ISLAND
After enjoying on famous Zlatni Rat beach, four islands tour continues towards Hvar. Hvar town on Hvar island is the most popular destination on mid Adriatic islands. Besides chrystal clear sea and wonderfull scenery, you will enjoy in beautiful ahitecture, charming caffe bars and numerous restaurants.
Besides the historic centre, fortress overlooking the town and the view from the top is number one attraction. Also, due to its popularity, Hvar tends to lean more on the expensive side. However, you don't need to eat in a restaurant, there are markets and local bakeries scattered around the centre.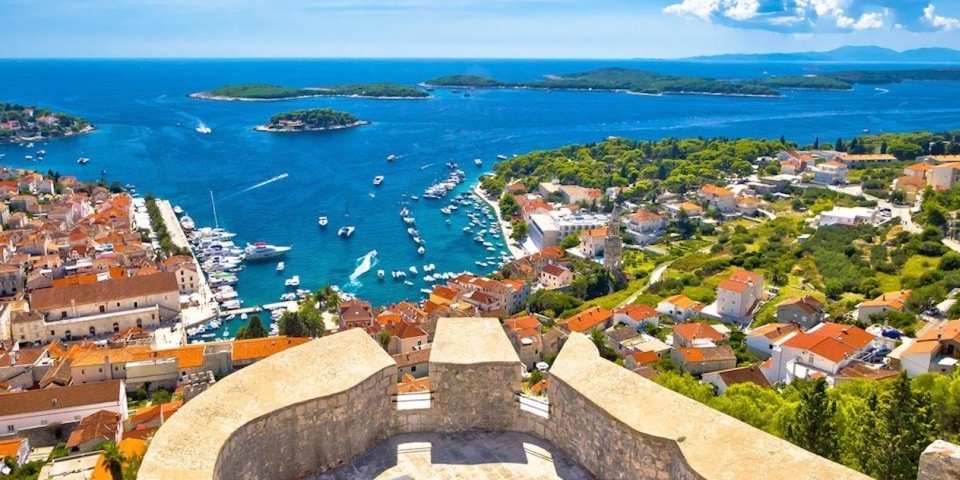 PALMIŽANA ON PAKLENI ISLANDS
After exploring Hvar, we take a short boat ride to nearby Paklinski island, also called Pakleni or Hell islands. Its name comes from the fact that it is the sunniest place in Croatia with the highest number of sunny days during the year.
Besides perfect weather, you can also find stunning beaches on these islands. Four of the best are Carpe Diem beach and Palmižana. Palmižana is a lovely beach with a lounge bar and numerous restaurants which provide an amazing view of the area. Rare plants, specially grown on the island, give a unique charm to the already amazing scenery of Palmižana beach.
BONUS LOCATION: MILNA & ŠOLTA
Depending on the time spent on main locations of Four islands tour, we might stop in Milna on Brač island or on Šolta island, on our way back to Split. Located on the western side of Brač island, Milna is known as a bay of a thousand ships, thanks to its deep and well protected bay.
Besides wine tasting, you can also enjoy in a lovely view of beautiful seafront, adorned by stone buildings, fishermen's houses, pine trees and all kinds of boats.
On the other hand, secluded bay of Šolta island is similar to Milna but with fewer ships and stunning but peaceful surroundings of pine trees.
TOUR MAP
In order to visit all places on the tour, we have to go with a speedboat which isn't suited for pregnant women and children 3 years old and younger.
SCHEDULE
Four islands tour goes every day from 1st of May till end of September:
DEPARTURE FROM SPLIT                                            8:30
FREE TIME AT ZLATNI RAT                              1 h : 15 min

FREE TIME AT HVAR                                       

1 h : 30 min

FREE TIME AT PALMIŽANA                             

1 h : 15 min
VISITING MILNA OR ŠOLTA                                 about 1 h

RETURN BACK TO SPLIT                                           

18:30
*Schedule may be adjusted due to weather conditions in compliance with the guests of the tour. 
INCLUDED
Skipper, safety gear, snorkeling equipment, water and fruit juices are included in the price of the tour.

USEFUL TIPS
Here are couple of items you may want to bring with you:
Bathing suit, towel, sunglasses, sunscreen, hat, additional clothes for change and money if you want to buy souvenirs, food or cocktails. 
---
---