Check our guests reviews on Tripadvisor & their experience on Instagram


Deluxe Five Islands Tour: Explore the islands with our biggest boats

Deluxe Five Islands Tour, also known as Deluxe Blue Cave Tour, is our most luxurious option for visiting Blue Cave and mid Adriatic islands. You travel with our best and biggest speedboats.
Biggest speedboat with full equipment
If you want to go all out and you want the biggest speedboat with extra comfort, we have Colnago 35, Aliskaf 37 and Colnago 33 for Deluxe Five Islands Tour.
These boats provide plenty of space, comfort, protection as well as shower, sundeck, cabin with a toilet and free WIFI onboard. 
The boats also have a platform with the stairs at the back from where you can easily get in and out of the water.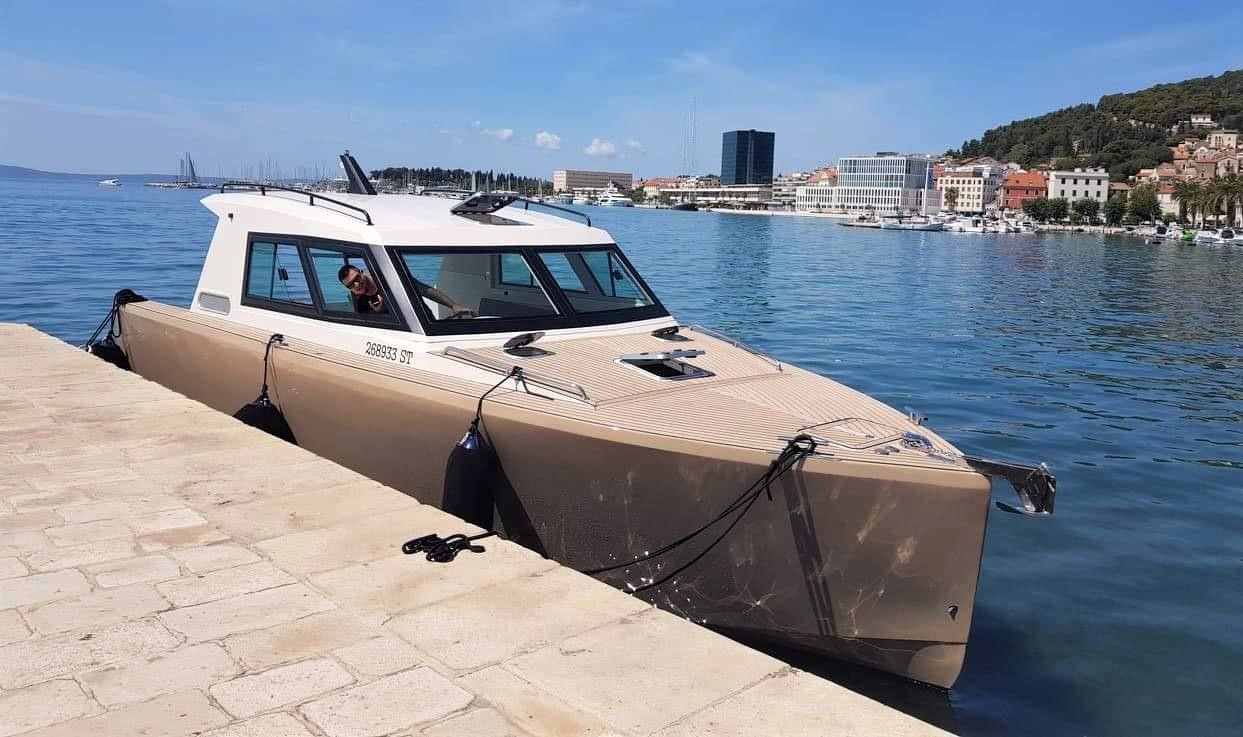 Aliskaf 37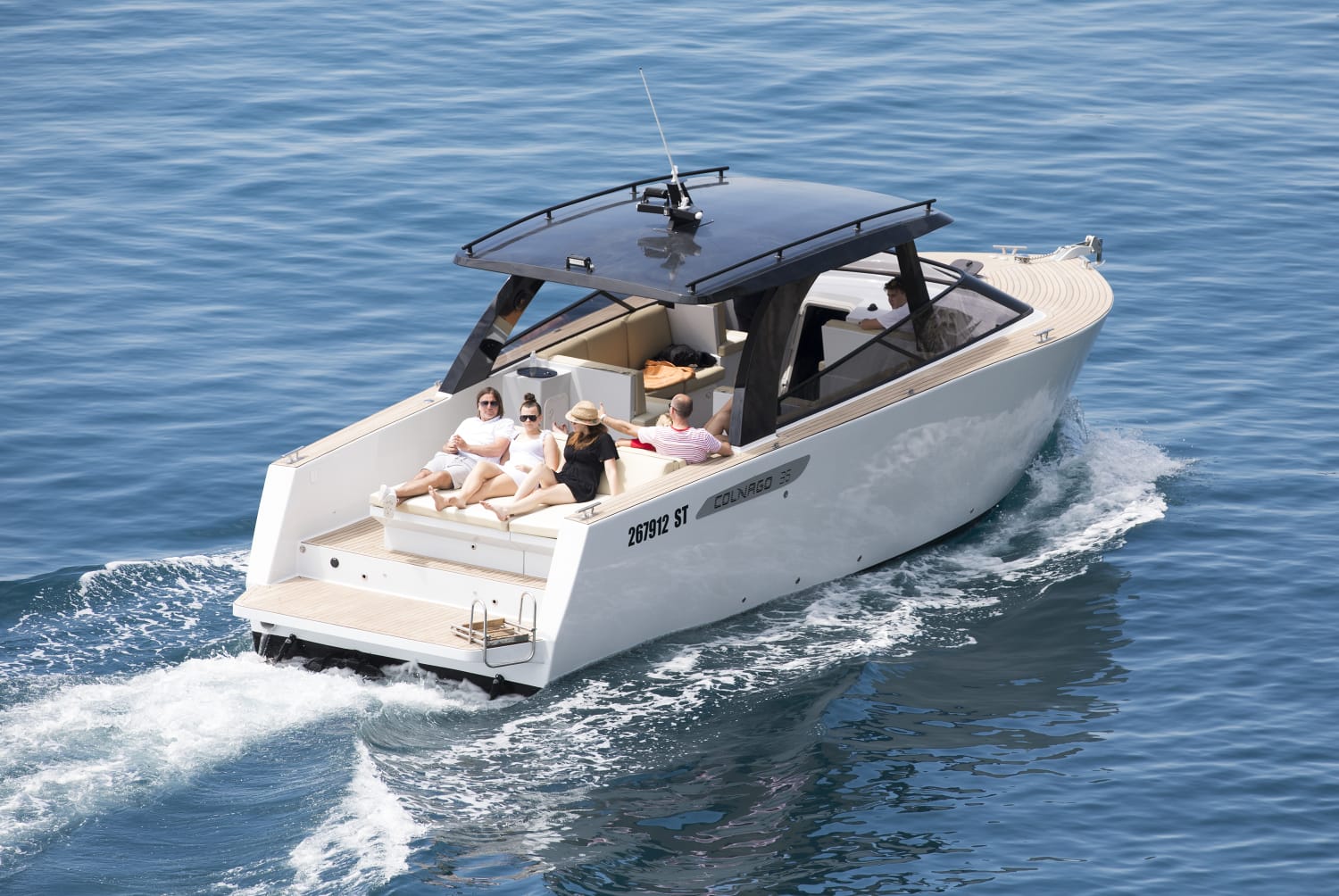 Colnago 35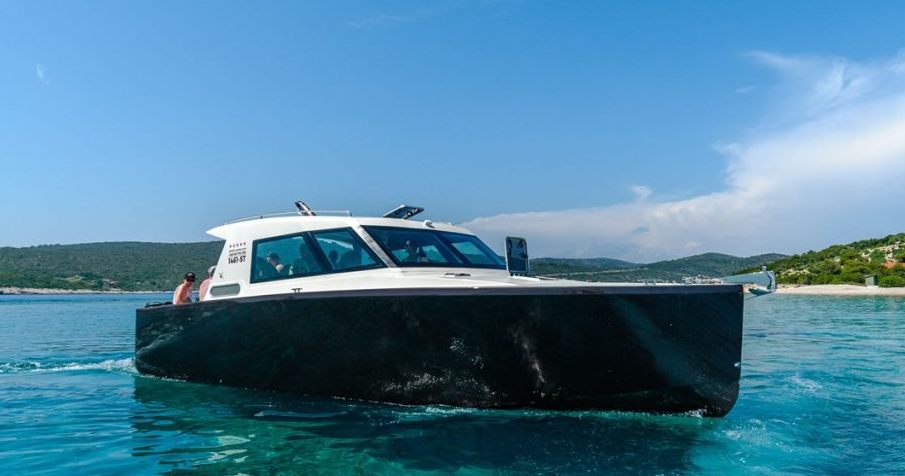 Aliskaf 37
1) Deluxe Five Islands Tour: Blue Cave
Our first destination is breathtaking natural phenomena and one of the most attractive locations on the Adriatic, Blue Cave. It is located on small island of Biševo, near Vis.
As sun's rays penetrate through an underwater opening of the cave and reflect from the white bottom, they illuminate the cave blue. This game of light and reflection creates opportunity for some beautiful pictures and unforgettable experience.
Next to Hvar and Stiniva, it is one of the destinations you simply have to visit, otherwise you'll be sorry. The pictures you take will be a happy memory to your Croatian adventure which you can show to your friends and family.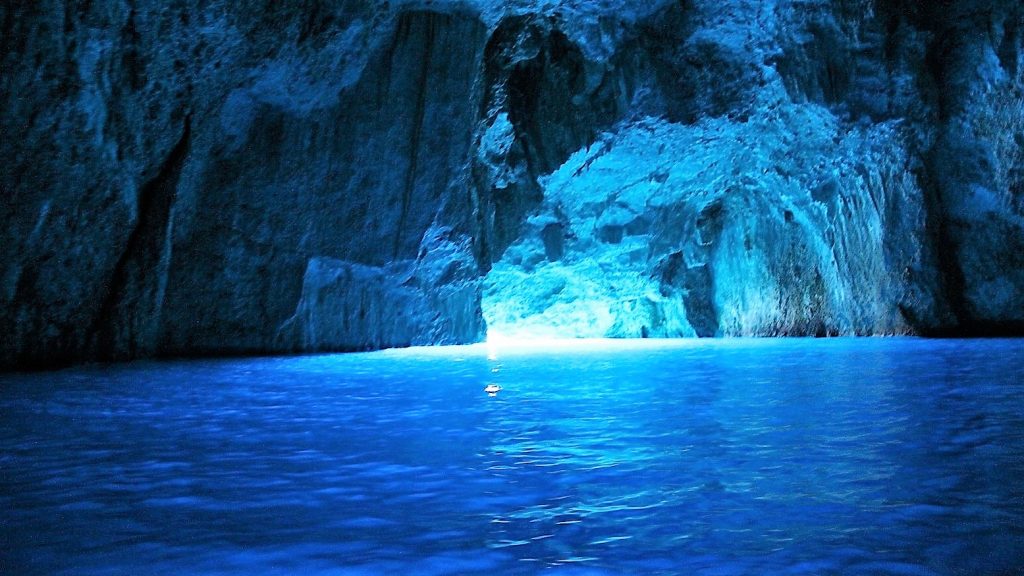 Blue Cave
2) Deluxe Five Islands Tour: Stiniva
Stiniva has been voted as the best beach in Europe, by tourists. It is secluded beach on the island of Vis which was created when the dome of the cave collapsed.
Now, what's left is a pebble beach with crystal clear water, white sand at the bottom and a stunning clifftop backdrop. Its appeal is largely due to its inaccessible, hidden and peaceful charm, combined with unusual features. 
Since there is no road to Stiniva, people on the beach are mainly tourists from the boat excursion. However, due to its 5 m (16 feet) wide entrance and the rope that also blocks the path, most speedboats anchor in front of the entrance.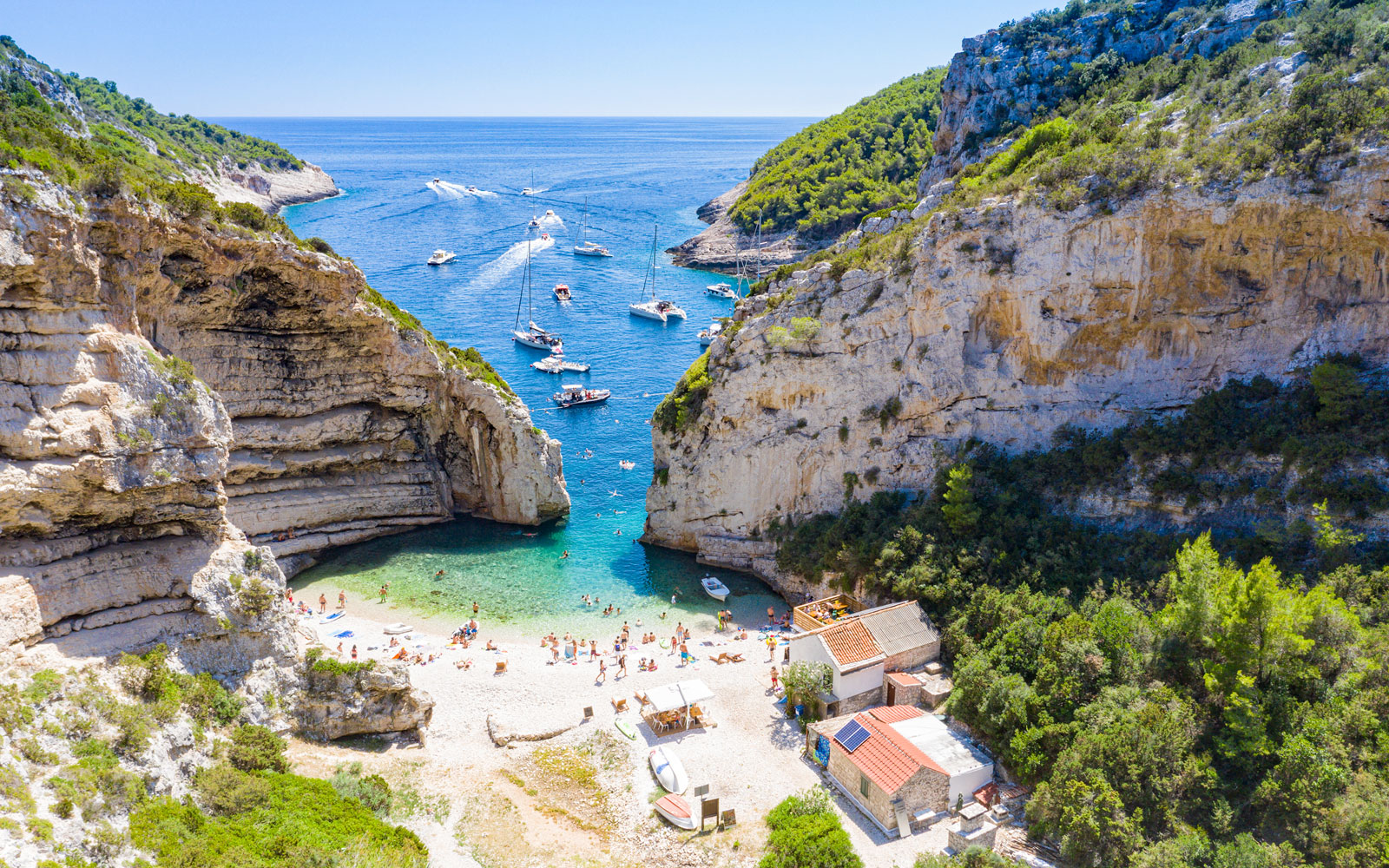 Stiniva Cove
3) Deluxe Five Islands Tour: Budikovac
After visiting Stiniva cove, we stop on Budikovac Island which is one of small, secluded islands located near Vis.
We anchor in the beautiful turquoise lagoon which is the best spot on the tour, when it comes to snorkeling. You can use the snorkeling equipment, that is on the boat, for free. 
There is also a restaurant on the island where you can drink a coffee, have a brunch or go to a toilet.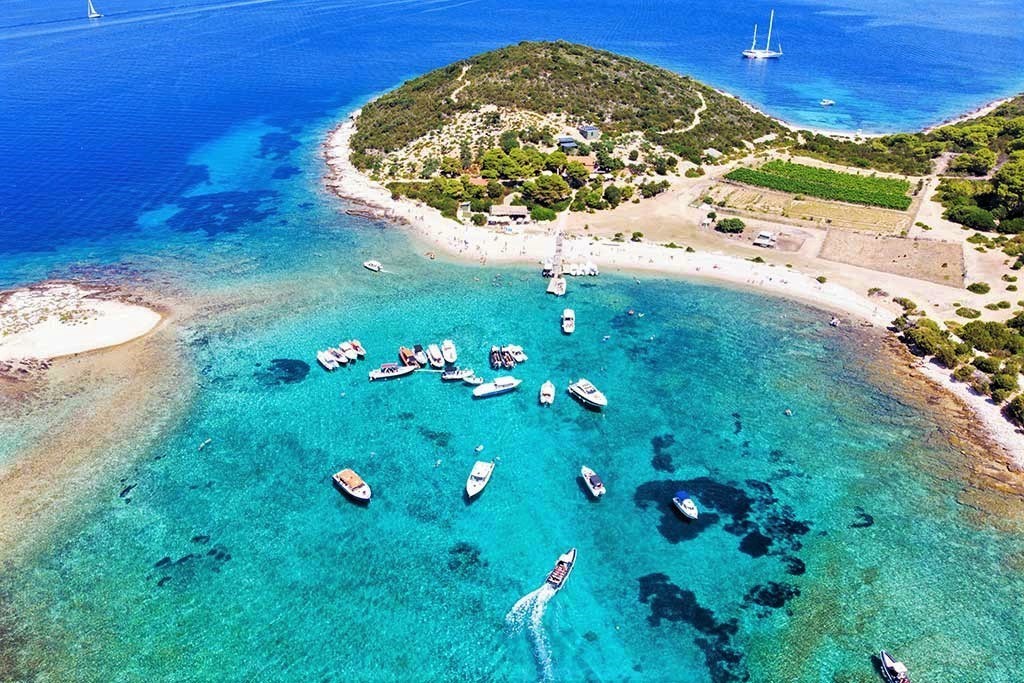 Budikovac Lagoon
4) Deluxe Five Islands Tour: Hell Islands
After these picturesque locations, we're off to beautiful Hell Islands. Despite being smaller than Vis or Hvar, Hell Islands are one of the most popular destinations. 
Two of the most popular beaches on the Hell Islands (Paklenjaci) are Palmižana and Carpe Diem beach. 
Although they are both nice beaches, Palmižana has several restaurants, lounge bar, botanical garden and a nice sandy beach. On the other hand, Carpe Diem is mostly a party beach, especially during the night.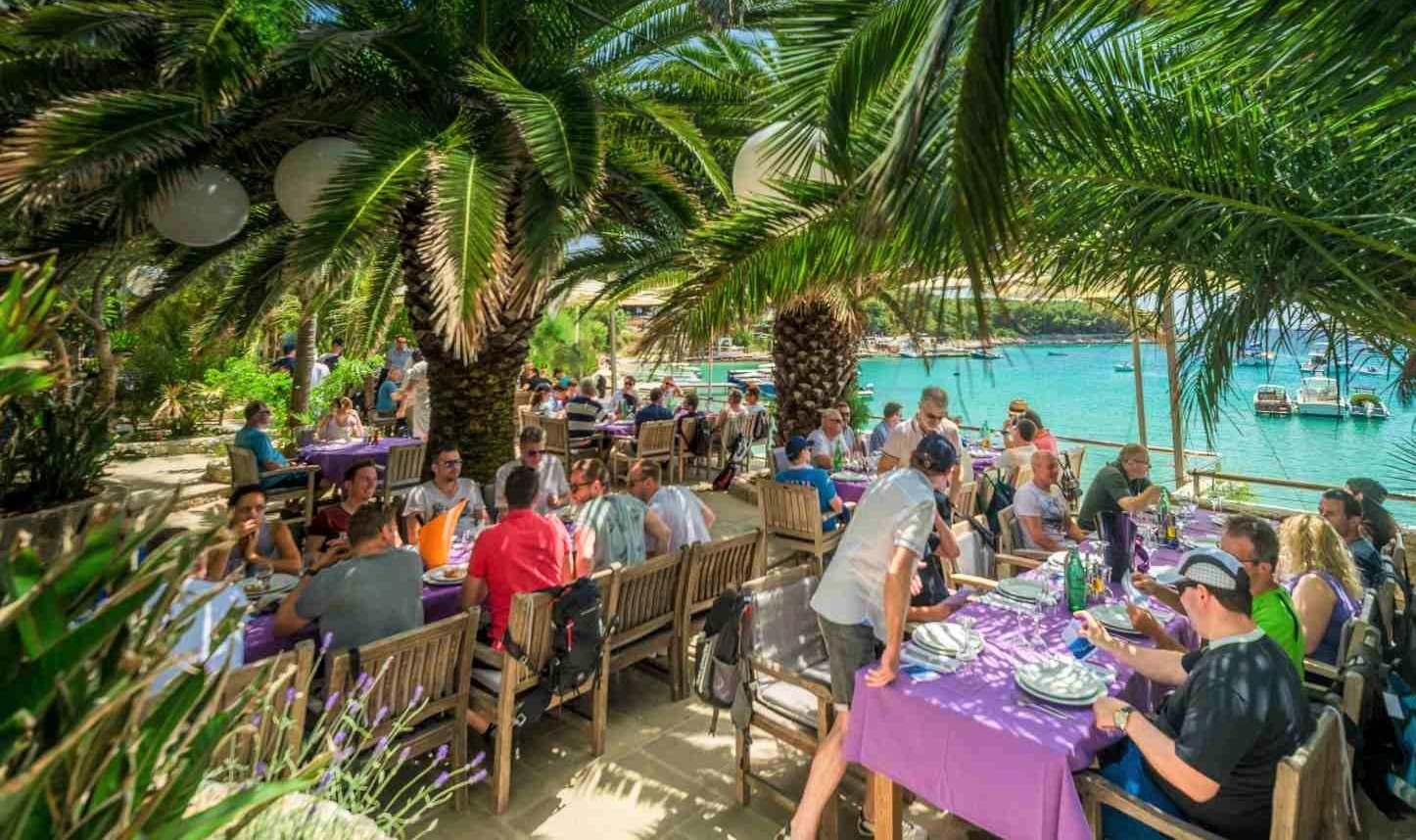 One of the restaurants at Palmižana beach
5) Deluxe Five Islands Tour: Hvar
Besides the clear sea, nice beaches and sunny days, you will found plenty of archaeological sites, stunning old buildings, monasteries, churches and ancient cultural monuments which speak about Hvar's rich and turbulent history.  

However, number one attraction is the old fortress located on the hill above the city. From the fortress you have beautiful panoramic view of Hvar and Hell islands. It takes only 15 minutes to the top, by foot.

On the other hand, if you're looking for summer parties, fancy restaurants, small pubs or local taverns with Croatian music and homemade wine, you won't need to look far. During summer, Hvar is known as the town that never sleeps.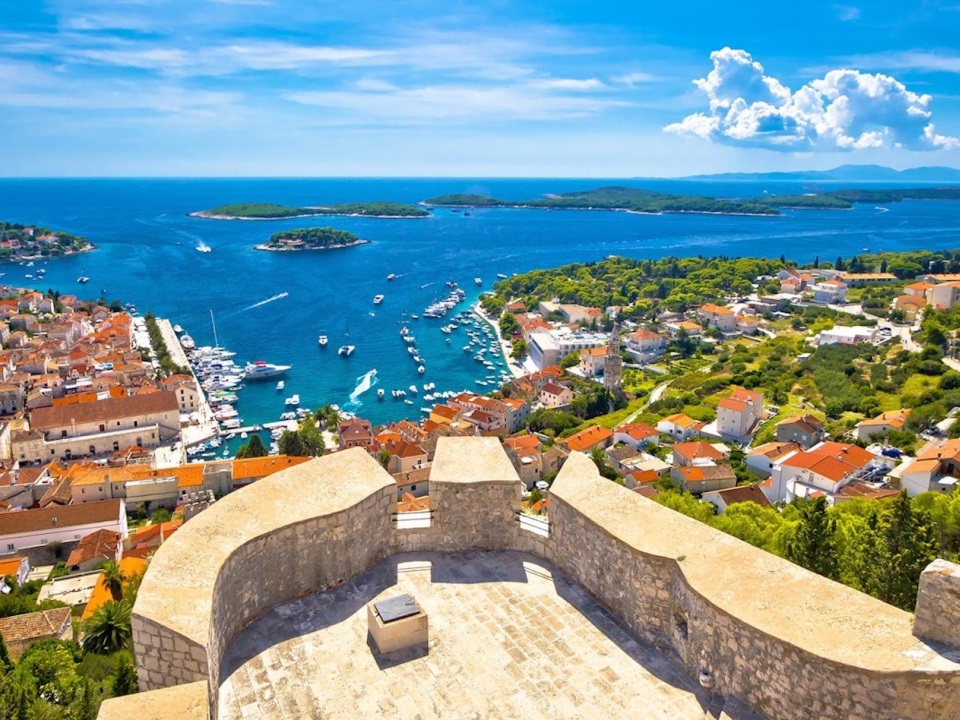 View from Hvar's fortress
Why choose deluxe option?
If you don't like Rib boats (budget option), our boats for standard option aren't big or comfortable enough for you or you just want to go with the best boat possible, than Deluxe Five Islands Tour is made for you. 
Fully equipped, spacious and powered by brand new engines, you will be able to relaxed and enjoy in Blue Cave tour to the fullest on our most luxurious speedboats.
TOUR MAP
SCHEDULE
DEPARTURE FROM SPLIT                            7:30 - 8:00
SIGHTSEEING OF BLUE CAVE                                9:45

SWIMMING BREAK IN STINIVA COVE                   

11:15

FREE TIME AT BUDIKOVAC LAGOON                     

12:30

FREE TIME ON HELL ISLANDS                              

13:50

FREE TIME IN HVAR TOWN                                  

15:40
RETURN BACK TO SPLIT                         18:00 - 18:30
*Schedule may be adjusted due to weather conditions and number of visitors in compliance with the guests of the tour. 

INCLUDED
Crew, safety gear, snorkeling equipment and water for drinks are included in the price of the tour.
NOT INCLUDED
Ticket or entrance fee to the Blue Cave is NOT included in the price of the tour. Nautical center Komiža governs the Blue Cave and determines the price of the entrance fee.
They set the price for pre/post season and for high season as well as for adults, children 6 - 12 years old and for children up to 6 years old which are free of charge.
For full price list of season 2023, visit their info link here.
Our staff buys tickets for all the guests onboard. Please prepare cash in euros for the entrance fee to the Blue Cave.
USEFUL TIPS
Here are couple of items you may want to bring with you:
Bathing suit, towel, sunglasses, sunscreen, hat, wind jacket, additional clothes for change, food, snacks or lunch money.
---
CHOOSE YOUR TOUR
While booking the tour of your choice, you pay only deposit to reserve your place on the boat. The rest you pay on the day of departure, before boarding the boat.
Loading...
---
For quick answer contact us via Whatsapp or Viber on:
+385 98 907 8068
---
---