Check our guests reviews on Tripadvisor & their experience on Instagram


Five Islands Tour: Choose your boat
Five Islands Tour, also known as Blue Cave Tour, is the most popular excursion to mid Adriatic islands. Not only that we stop on the best locations such as Blue Cave and Hvar but you can also choose between three different types of boats. 
You could say that the tour comes in three different sizes with three different price tags. Why three different options? 
Because not everybody prefers the same type of boat. One is faster and cheaper, the other one provides more comfort and protection, while the third one is the biggest and also the most expensive. 
So not only that you can choose the type of boat you like but you can go on the same trip with the boat that is within your financial limits. 
We go to Five Islands Tour every day between 7:30 and 8:00 o'clock from Split harbour
Why is Five Islands Tour #1?
To simply put it, you visit all the best places on mid Adriatic islands, all in one day. That being said, you have enough time in each place. It is not just speeding from one island to another.
On some places we stop for 30 to 45 minutes, while on others we'll stay for more then 2 hours. It all depends on the place and what it offers. 
For instance, you don't need to swim in the lagoon for two hours, one is enough. However, you need more time to explore Hvar and visit the fortress above the city. 
In the video above you can watch short preview of Blue Cave Tour and get general idea about the excursion to the best locations of mid Adriatic islands. 
Which islands/locations we visit?
We stop at Biševo, Vis, Budikovac, Hell Islands (Pakleni otoci) and Hvar. Among these five, Hvar and Vis are among the biggest islands of mid Adriatic. 
Lagoon at Budikovac island and Blue Cave on island of Biševo are located around Vis. Palmižana beach at Hell islands, located in front of Hvar, is the best place to have lunch.
Five Islands Tour is composed in a way that the places we visit are one of the best beaches of mid Adriatic, natural phenomena you simply have to visit such as Blue Cave and one of the most popular locations in Croatia such as Hvar.  
On this kind of tour you are never bored since each place is stunning, yet different from the previous one.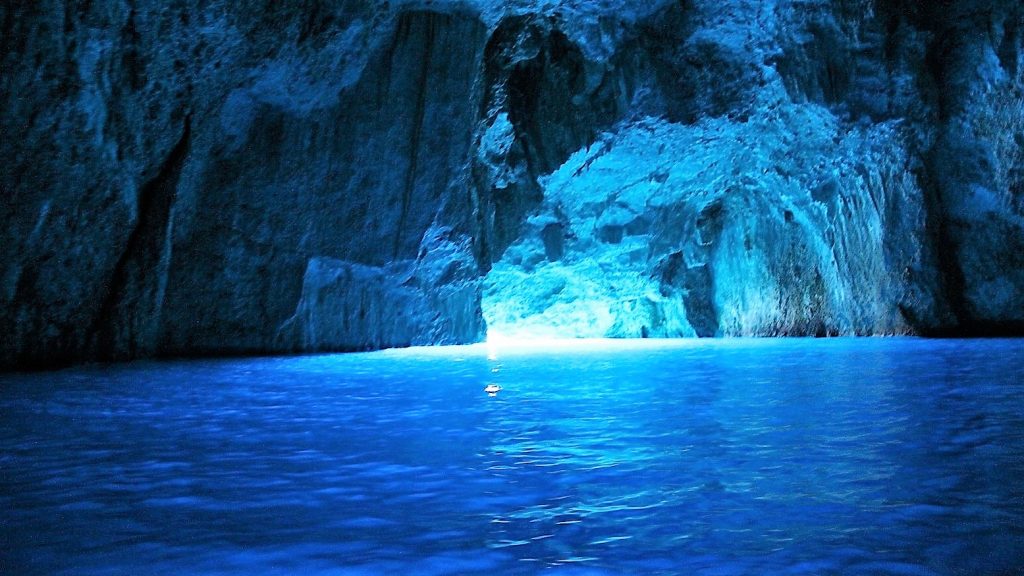 Blue Cave on Biševo island
What to expect & what to bring?
First destination is the Blue Cave on Biševo which is also the furthest point from Split. It takes between 1 hour and 20 minutes up to 1 hour and 50 minutes to reach it, depending on the speedboat. 
After the Blue Cave, each of the following destinations is 10 to 20 minutes away from the previous one. Only the return back from Hvar to Split takes between 45 to 60 minutes. 
We recommend you bring a shirt with long sleeves, especially if you are going a on a Five Islands Tour in spring or early fall. Afterall, we are going with a speedboat. 
Besides the bathing suit, you might want to bring a towel, sunglasses, sunscreen, hat as well as food, snacks or lunch money.
On the other hand, besides the boat, fuel, the crew and free drinks, safety gear and snorkeling equipment are also included in the price.
Entrance Fee for the Blue Cave
Ticket or entrance fee to the Blue Cave is NOT included in the price of the tour. Nautical center Komiža governs the Blue Cave and determines the price of the entrance fee.
They set the price for pre/post season and for high season as well as for adults, children 6 - 12 years old and for children up to 6 years old which are free of charge.
For full price list of season 2023, visit their info link here.
Our staff buys tickets for all the guests onboard. Please prepare cash in euros for the entrance fee to the Blue Cave.
Budikovac Lagoon
What about the lunch?
Although you have free drinks on the boat, lunch is not included in the price. However, you have few options. 
Cheaper option includes bringing your own snacks and food which doesn't need to be in a refrigerator. You can also buy some snacks and food in local market, when we stop at Hvar. 
More expensive option includes having a lunch in one of restaurants at Hvar or Hell Islands. Just remember that these two places are a bit expensive. 
Usually the cheapest lunch in a restaurant, at Hvar or Hell Islands, is 100 kuna which is around 14 euros for one person.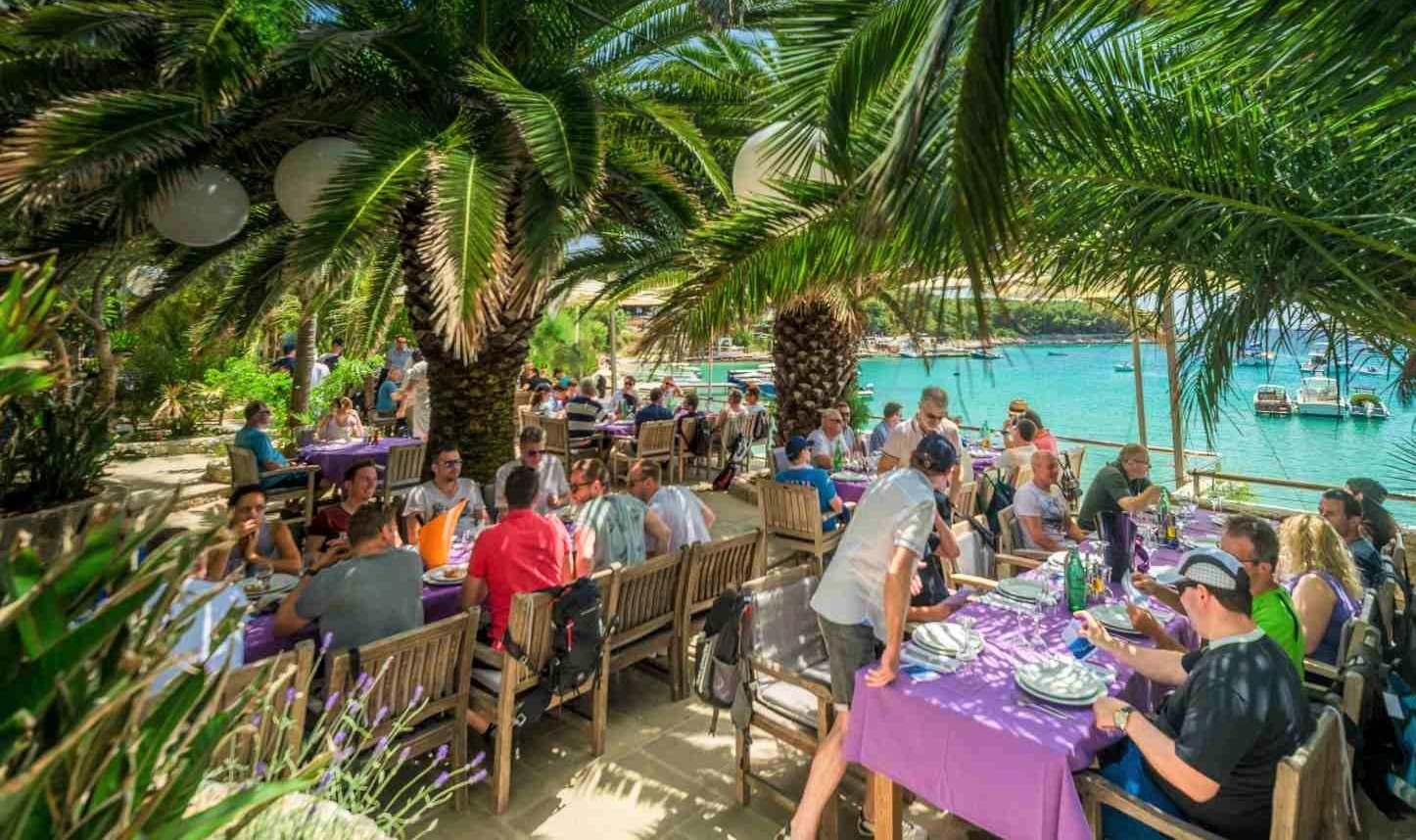 Lunch on Hell Islands
Get 2 for the price of 1
Since Hvar is the last destination on Five Islands Tour, before returning to Split, you can use this to your advantage. 
If you want to stay for a few days on the most popular Adriatic island, you can join Blue Cave Tour, visit all the best places and stay in Hvar, instead of returning to Split. 
Basically, you can also use the excursion as a transfer. Just let us know in advance how much luggage you have. 
View from Hvar's fortress
Pregnant women & toddlers!!!
In order to have enough time in each place and visit the best islands in one day, the only way is to go with a speedboat. 
Since the trip can be a bit bumpy, especially if it's windy, we don't take pregnant women and children 3 years old or younger on the speedboat. 
Choose your speedboat
Five Islands Tour lasts around 10 hours. We leave from Split harbour between 7:30 - 8:00 AM and we are back in Split around 18:00 - 18:30 PM.
The price difference is based on the fuel expendeture which differs from boat to boat. Accordingly with different boat types, we created three different options for you:
Budget option - Rib Boat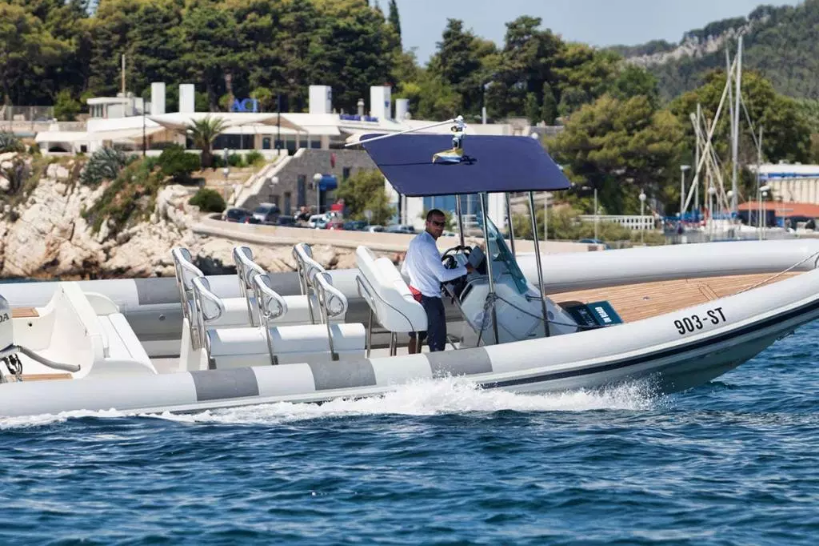 When you choose budget option, you go with rib boats which are open from the sides.
Rib boats are among the fastest speedboats since they weight less and are more built for speed. They cut through the waves more easily and spend less fuel.
This is one of the reasons why our Budget Blue Cave Tour is so popular, especially during peak of the season when there isn't such need for closed speedboats. So, not only that you save some money but you also get more speed and time.
---
Standard option - Semi closed plastic boat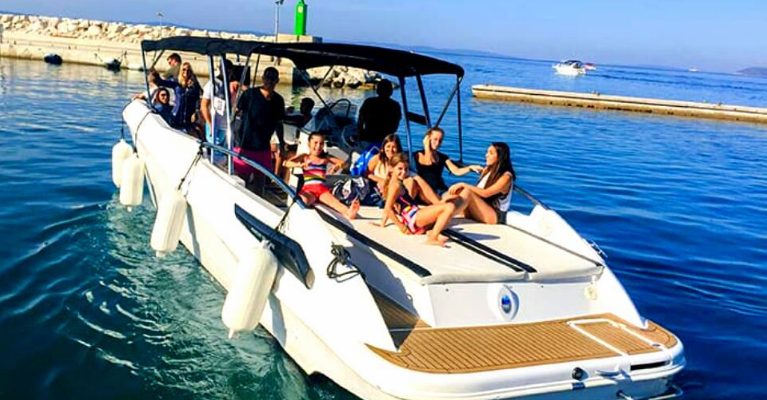 Our speedboats for Standard Five Islands Tour include Enzo 35 and Mercan 34 which are specifically designed for transfers and excursions.  

The front part of these boats is covered with roof and equipped with transparent roll-down side covers for protection against sun, wind and the rain. There is also a big sun deck in the back. 
With their size of 11 meters, Enzo 35 and Mercan 34 are safe even when the sea is rough and yet small enough to visit all the hidden coves and beaches on the islands. 

---
Deluxe option - Luxury speedboat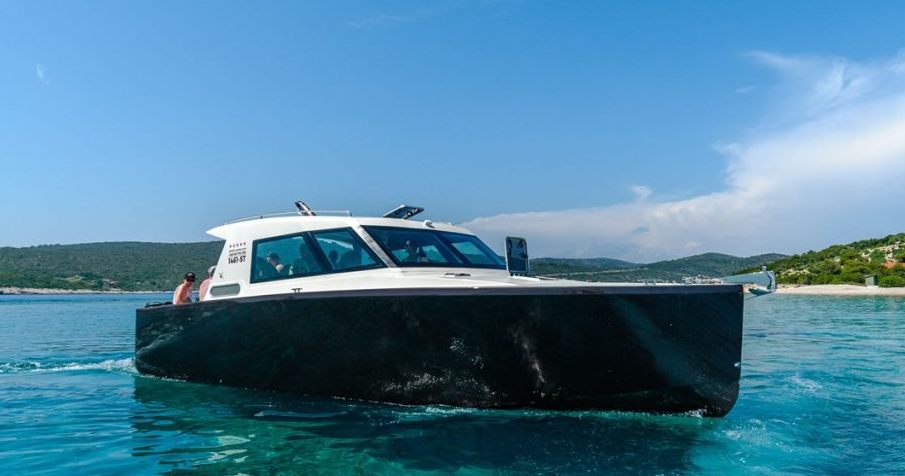 Our boats for deluxe option such as Colnago 35, Aliskaf 37 and Colnago 33 provide more space, comfort and luxury.
They also have toilet onboard, shower, free wifi and a cabin. Since they are bigger and wider, they also need to have a stronger engine or in this case, inboard engine.
However, their size, additional equipment and fuel expenditure makes Deluxe Five Islands Tour the most expensive, when it comes to these three.

---
CHOOSE YOUR BOAT
While booking the tour of your choice, you pay only deposit to reserve your place on the boat. The rest you pay on the day of departure, before boarding the boat.
Loading...
---
For quick answer contact us via Whatsapp or Viber on:
+385 98 907 8068
---
---