Three Islands Tour with a big boat
Three Islands Tour is a full day excursion with a big boat to islands of Čiovo, Šolta and Drvenik. Besides swimming, snorkeling and sightseeing, lunch is also included in the price.
Why choose Three Islands Tour
Excursion is best suited for families with kids. Not only that we go with a big boat but this is inexpensive boat tour where you also have lunch included in the price. 
We go to the first line of islands which are closer to Split and unlike speedboats, this type of boats spend less fuel. This leads to a better price for you, the consumer.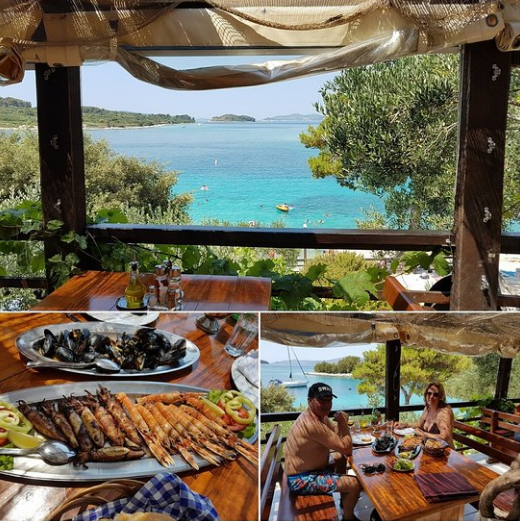 Lunch with a view
When it comes to lunch, you can choose between fish, meat or vegetarian menu. You also have free, unlimited drinks on the boat, including water, fruit juices, soda and wine. If you want beer, you have to buy it on the boat or bring your own. 

1) Duga Bay on Island of Čiovo 
Island of Čiovo is our first stop on Three Islands Tour. We stop in Duga bay, a perfect spot for swimming, sunbathing and relaxing on a beach reserved just for the guests of the tour. 
Next to Duga Bay is Laganini beach club which is located 5 to 10 minutes away, by foot. So, not only you can enjoy on a private beach but you can also check out nearby beach club and drink a cocktail in a shade of pine trees. 
Also, we organize lunch in a restaurant at Duga bay or at the Blue Lagoon, our next destination. 
2) Blue Lagoon at Drvenik Island
Our second destination is secluded lagoon surrounded by two small islands (Krknjaši) and one big one, Drvenik. Blue Lagoon is picturesque location perfect for snorkeling, thanks to turquoise color of the sea and shallow sandy sea bed.
Although snorkeling gear is free, there aren't always enough masks and snorkels for everybody but you can bring your own or wait your turn. Speedboats can fit up to 12 to 14 people, while our boats for Three Islands Tour can fit between 60 to 120 people. 
That being said, many of our guest prefer jumping from the boat, especially from its sundeck. Also, sometimes we organize lunch in a private restaurant located on the island of Drvenik. 
3) Maslinica on Šolta
Maslinica is our last destination on Three Islands Tour, before returning back to Split. It is small, charming town situated in a bay on the western part of Šolta island.
It was once a fishing village, but it slowly turned into a tourist and nautical center of the island. Maslinica, which on Croatian means olive, welcoms each year an increasing number of guests and lovers of orchards. 
Besides nice beaches, caffe bars and few restaurants, you will notice old houses made of stone and historical castle Martinis Marchi, surrounded by pine trees.
Three Islands Tour - The Boat
We visit Čiovo, Drvenik and Šolta with our biggest boat, Humac. It has two decks. First deck is proteced from the sun, while second deck is a sundeck with sunbeds lined up on both sides. 
Boat is 20 m (66 feet) long and 5 m (16 feet) wide with powerful disel engine, water tank, fridge, GPS, VHF, full safety equipment and 2 bathrooms.
TOUR MAP
SCHEDULE
DEPARTURE FROM SPLIT                                       9:30
FREE TIME AT DUGA BAY                        10:45 - 12:00
LUNCH IN A RESTAURANT                       12:00 - 12:30
FREE TIME AT BLUE LAGOON                   13:00 - 14:00

FREE TIME IN MASLINICA 

                       14:30 - 16:00
RETURN BACK TO SPLIT                                      18:00
*Schedule may be adjusted due to weather conditions in compliance with the guests of the tour. 

INCLUDED
English speaking crew, safety gear, snorkeling equipment, lunch, water, wine, soda and fruit juices are included in the price of the tour.

USEFUL TIPS
Here are couple of items you may want to bring with you:
Bathing suit, towel, sunglasses, sunscreen, hat, additional clothes for change and money if you want to buy souvenirs, snacks or beer. 
---
CHOOSE YOUR TOUR
While booking the tour of your choice, you pay only deposit to reserve your place on the boat. The rest you pay on the day of departure, before boarding the boat.
Loading...
---
For quick answer contact us via Whatsapp or Viber on:
+385 98 907 8068
---
If you find splitexplore.com helpful, please share it, tweet about it or comment below. It helps us grow. Thank you!

Facebook Comments

Add a comment or write a review of your tour with SplitExplore.