Check our guests reviews on Tripadvisor & their experience on Instagram


Krka National Park: Visit Famous Krka Waterfalls
Krka National Park is the most popular mainland attraction in Dalmatia, next to Split and Dubrovnik. Since it is only 1 hour and 30 minutes away from Split with a van, it is also the most popular land tour from Split. 
Besides Krka waterfalls, we also stop for food and wine at the local family agrotourism. That being said, this stop is optional.
Krka National Park

National Park Krka is a rich and preserved ecosystem with its seven waterfalls, exceptional natural value, crystal clear water and stunning scenery which will leave you speechless.
National Park is intertwined with signs, wooden bridges and walkways which will help you explore every part of this mesmerizing place. It is located within the territory of Šibenik-Knin County and encompasses an area of 109 square kilometers along the Krka River.
The river, with its travertine waterfalls, cascades and total drop in altitude of 242 m, is a natural and karst phenomenon. 
Besides watermills, ethno museum, small stone houses and the first hydroelectric power station in Europe, highlights of Krka National Park include Skradinski Buk, Roški Slap and Island of Visovac. 
Island of Visovac, which can be reached by park boats, was founded during the reign of Louis I of Hungary. It hides Franciscan monastery, churches and a museum with a number of important archaeological collections.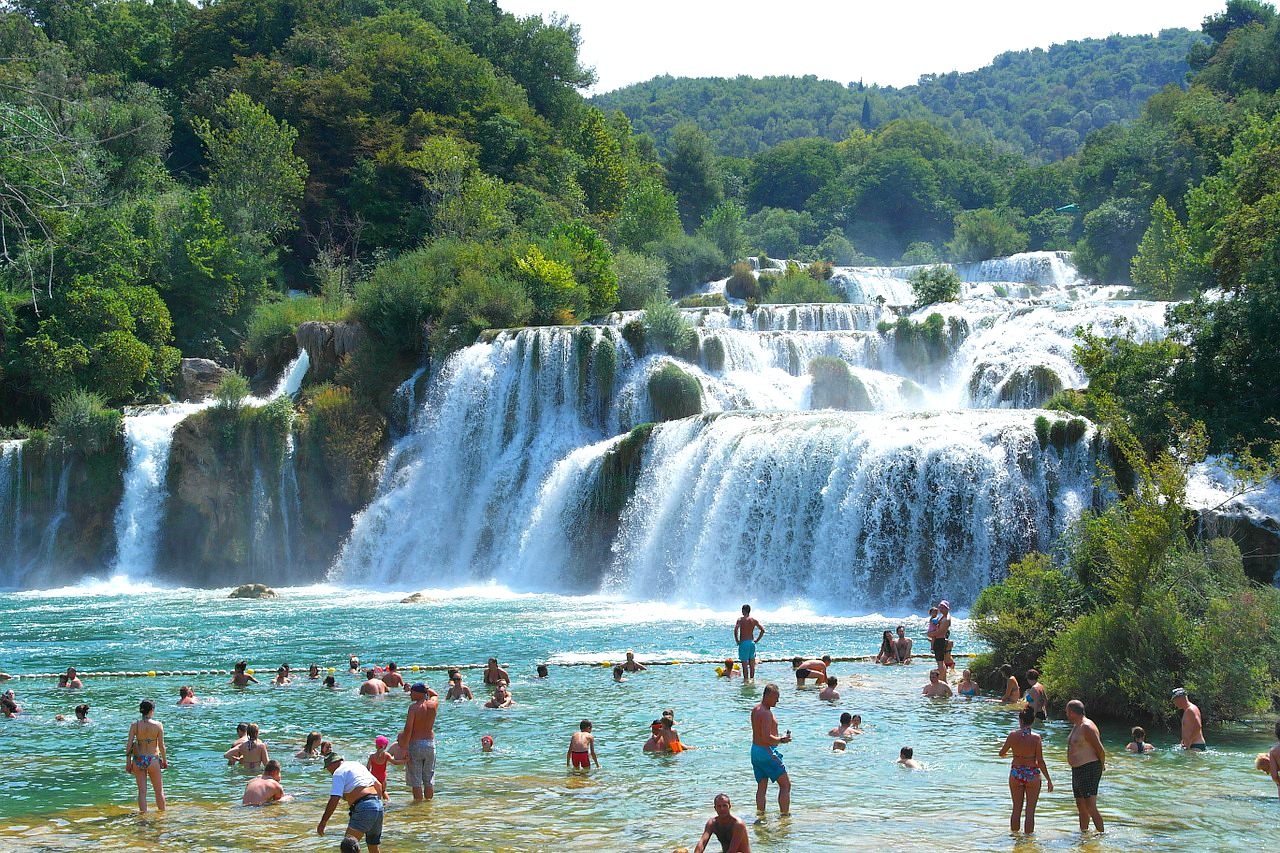 Swimming at Krka Waterfalls
Lunch near the Krka waterfalls
After you finish the tour of Krka National Park, you can sit in one of the restaurants with an amazing view and enjoy in local cuisine.
Restaurants are surrounded by nature, river and waterfalls. If you don't want to spend your money in restaurants, you can bring your own food and enjoy in the unique magic and scenery of this astonishing natural phenomena.
TOUR MAP
Tour to Krka National Park starts from Split. It takes about 1 hour and 30 mins to reach Krka from Split.
SCHEDULE
Krka Waterfalls tour includes stop for food and wine at the local family agrotourism. That being said, this stop is optional. Highlight of the tour is Skradinski Buk where you have plenty of free time for sightseeing, lunch and relaxation. 
TOUR BRIEFING AND TICKET CHECK AT THE MEETING POINT                    8

:30

DRIVE FROM SPLIT TO KRKA, ENTRANCE LOZOVAC                      9:00 - 10:30

VISITING SKRADINSKI BUK (free time)                                     

10:30 - 13:00
BOAT RIDE DOWN THE KRKA RIVER CANYON                             13:00 - 13:30
FREE TIME AT KRKA RIVER CANYON                                          13:30 - 15:00

FOOD AND WINE STOP AT THE LOCAL FAMILY AGROTOURISM     

15:00 - 16:00

RETURN TO TROGIR                                                                             

17:00

RETURN TO SPLIT                                                                               

17:30


*Schedule may be adjusted due to weather conditions or heavy traffic in compliance with the guests of the tour. 
INCLUDED
Air-conditioned van with free WIFI, your private driver and tour guide are included in the price of the tour.

TICKET NOT INCLUDED
Entrance fee for Krka National Park is not included in the price, so please bring cash.
Entrance fee for kids 7 years old and under is FREE.

You can check all entrance ticket prices for Krka Waterfalls here.
USEFUL TIPS
Here are couple of items you may want to bring with you:
Bathing suit, towel, sunglasses, sunscreen, hat, camera, food, snacks or lunch money, sportswear, comfortable walking shoes or sandals, warm sweater and closed comfortable shoes if you're coming in winter.
NOTE: Swimming is now forbidden in Krka National Park but we stop at Skradin town where you can cool off in Krka river at one of the beaches.
---
CHOOSE YOUR TOUR
While booking the tour of your choice, you pay only deposit to reserve the service. The rest you pay on the day of departure.
Loading...
---
For quick answer contact us via Whatsapp or Viber on:
+385 98 907 8068
---
---