Check our guests reviews on Tripadvisor & their experience on Instagram


Plitvice National Park: Full Day Tour
Plitvice National Park is the most popular land attraction in Croatia, located halfway between Zagreb and Zadar or 3 hour drive from Split. Tour to Plitvice lakes goes every Monday, Wednesday, Friday and Sunday with air-conditioned minibus equipped with free WIFI.
Park covers total area of 300 square kilometres which makes it three times bigger than N.P. Krka. 

Plitvice National Park - protected by UNSECO

National Park Plitvice, which is set in deep woodland and populated by wildlife, is one of the places you simply have to visit. Extraordinary appeal of this heavily forested park lies in its sixteen crystalline lakes, inter-connected by a series of waterfalls and cascades. 
The lakes and mineral-rich waters created this natural phenomena by carving a path through the mountains for millions of years, on the area eight kilometres long.
There is also quite an altitude difference. The highest point is at 1280 m (4200 feet) and the lowest at 380 m (1250 feet). However, total height difference between the lakes themselves is only 135 m (440 feet). Veliki Slap, the largest waterfall, is 70 m (230 feet) tall.
That being said, although the park is huge, there are 18 km of wooden footbridges and pathways which will lead you under and across the rumbling lakes and Plitvice waterfalls. When you take all this into consideration, it is no wonder park was given UNESCO World Heritage status in 1979.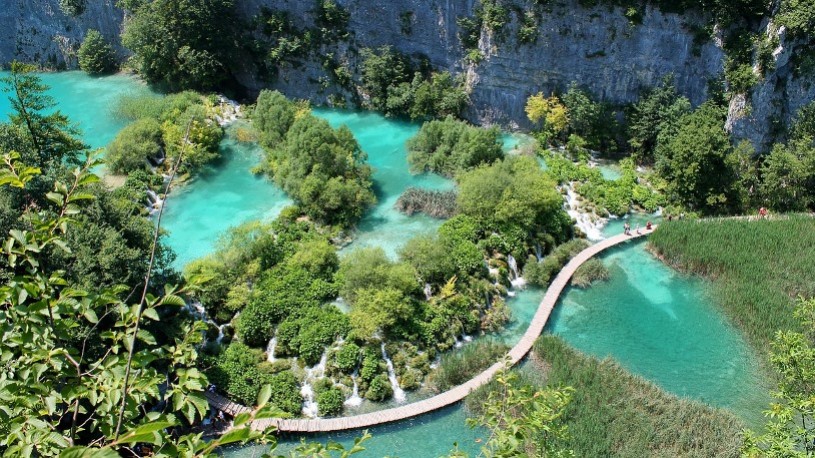 Sightseeing of Plitvice Lakes
No matter which time of year you decide to visit Plitvice National Park, expect a symphony of sights, sounds and picturesque views which will drain your camera battery.
It can take up to six hours to explore the lakes on foot. On the other hand, you can explore entire park in just 4 hours, if you take advantage of the park's free boats and buses which are departing every 30 minutes from April to October.
The best option is to first catch the bus to the top of the upper lakes and then hike back down to the shore of Kozjak , the park's largest lake which is 4 km long. From here, the boat will get you to lower lakes which culminates with the view of the tallest waterfall in Croatia, Veliki Slap.
After Veliki Slap, there is steep path to a bus stop, where you can grab a lift back. The path offers great view and photo opportunities of lakes and Plitvice waterfalls. Also, you should know that swimming is not permitted in any of the lakes. In case you need any help or informations, our experienced guides are there to help you.
What to expect?
After we pick all our guest which booked the tour, we head to the highway above Split on the route to Plitvice National Park. During the trip through Lika and Dalmatia, you can enjoy in stunning sights of Adriatic Sea, mountains and forests.
Since trip to Plitvice may last for more then 3 hours, we usually stop for a short coffee break. 
When we arrive to Plitvice, you can join our guided tour through wooden paths, enjoy the boat ride across the biggest lake called Kozjak and a short train ride. On the other hand, you can also explore and enjoy the park by yourselves. You just need to be at the right time on the right place for our trip back. 
That being said, you have more then 4 hours to explore the park and an hour for a lunch break. However, instead of having a lunch break, you can use that time for sightseeing the Park.
On our way back to Split, send videos and images from Plitvice National Park to your friends and family, while enjoying in our luxury minibus equipped with AC, free WIFI and a USB charging slot at every seat.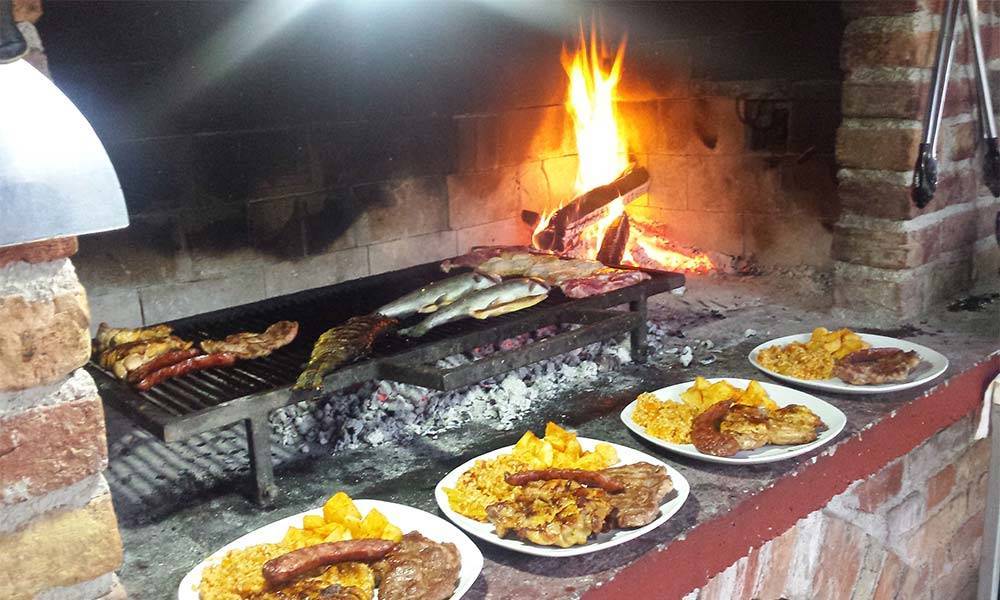 Lunch in one of Plitvice restaurants
TOUR MAP
We stop for a short coffee break on our way to Plitvice Lakes:
SCHEDULE
Excursion to National Park Plitvice goes on June, July, August and September.
DEPARTURE FROM SPLIT                                                 7:00 - 7:15
FULL GUIDED TOUR OF N.P PLITVICE                               4 h : 30 min
FREE TIME FOR LUNCH                                                   Around  1 h

RETURN BACK TO SPLIT                                             

19:00- 19:30
*Schedule may be adjusted due to weather conditions and number of visitors in compliance with the guests of the tour. 
INCLUDED
Air-conditioned minibus with free WIFI, your private driver and tour guide are included in the price of the tour.

TICKET NOT INCLUDED
Entrance fee for National Park Plitvice is not included in the price. You pay the entrance fee to the park on our arrival to Plitvice Lakes. Our guide will tell you where to buy the ticket.
You can check the price of the entrance fee on this link.
Children up to 7 years and persons with disability (over 50%) are free of charge.
Students have the right to discount for the entrance fee.
• Students and persons with disabilities (over 50%) are entitled to discounts by presenting a valid card.

USEFUL TIPS
Here are couple of items you may want to bring with you:
Sunglasses, sunscreen, hat, camera, food, snacks or lunch money, sportswear and comfortable walking shoes or warm sweater and closed comfortable shoes if you're coming in winter or fall.
---
CHOOSE YOUR TOUR
While booking the tour of your choice, you pay only deposit to reserve the service. The rest you pay on the day of departure.
Loading...
---
For quick answer contact us via Whatsapp or Viber on:
+385 98 907 8068
---
---