Check our guests reviews on Tripadvisor & their experience on Instagram


Croatia Beaches: Check the pictures & find their location
Croatia beaches is one of the most googled search terms associated with our country. With over thousand islands and more than 1700 km of mainland coast, there are plenty of beautiful beaches to pick from.

Croatia Beaches: Top 10
1.) Zlatni Rat or Golden Horn is the most popular beach on this side of Adriatic, located on the Brač island. When you see it the first time, you quickly realize why. Its unique shape, the fact that the beach changes shape with changes in wind direction, plenty of wind surfing activites, caffe bars and restaurants surrounded with pine trees as well as close proximity of Bol town, its no wonder Zlatni Rat is one of the best beaches in Croatia.
Although you have few options for visiting this marvelous destination, we created a full day tour for exploring town of Bol and relaxing on famous beach of Zlatni Rat. Not only that you have plenty of time for enjoying in this paradise and soaking up the atmosfere but we also serve coffee, snacks, lunch and drinks on the big luxury boat which is all included in the price.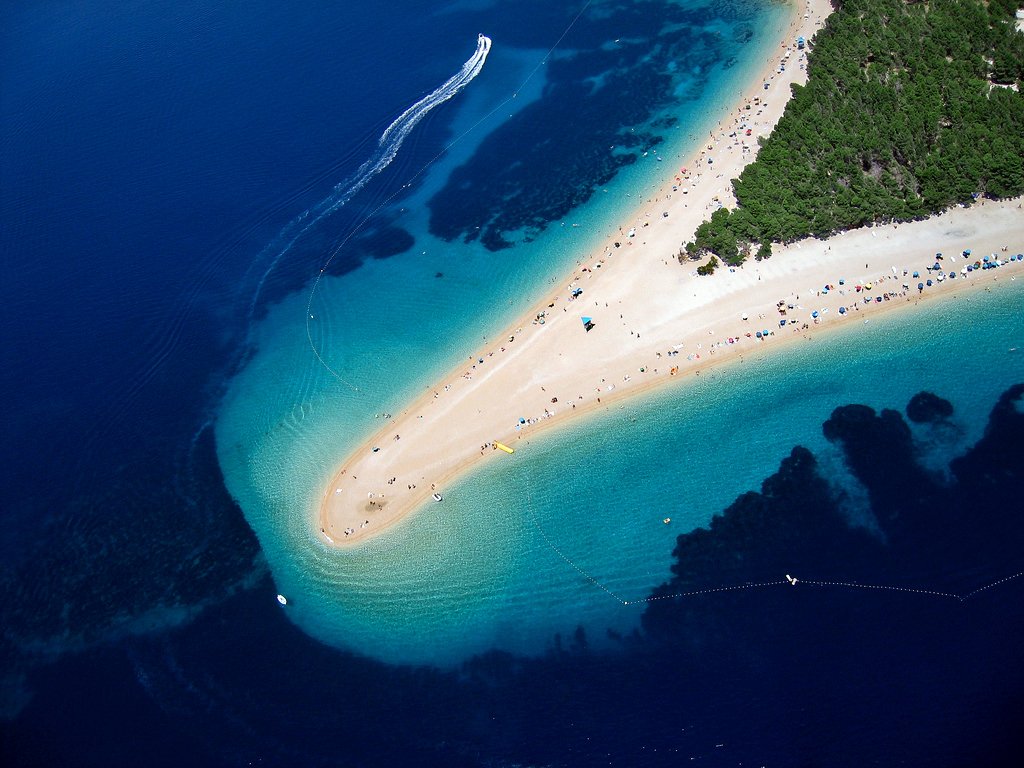 Zlatni Rat beach
2.) Stiniva Cove was voted as the best beach in Europe by tourism organisation, "European Best Destinations". It is famous because of its shape which is a lot different than other Croatia beaches. Stiniva was actually a cave, a long time ago, but the roof of the cave collapsed and Stiniva beach was born.
It has funnel like shape with wide pebbel beach inside, sandy seabed and narrow entrance to otherwise inaccessible beach. There is only steep and dangerous goat path that leads to the beach from Vis island. That is one of the reasons why Five Islands Tours is so popular since we also visit Stiniva Cove with a speedboat, besides other locations.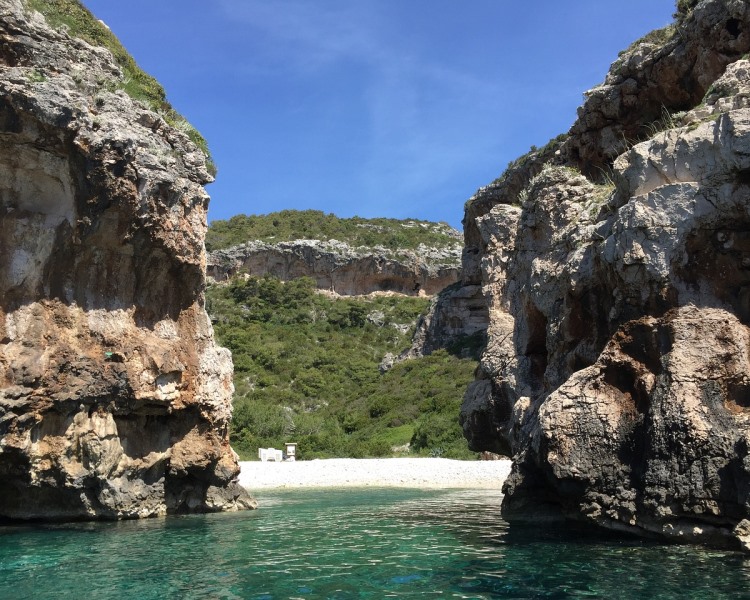 Entrance to Stiniva Cove
3.) Lovrečina Bay is another gem of Brač island which deserves to be among the best, when it comes to Croatia beaches. That being said, while Zlatni rat is located on the southern side of the island with its horn facing the windy channel, Lovrečina is located on the peaceful northern side with the beach sliding into the "protective hug" of the island. Besides the shape of the beach, wind conditions and the location, environment and the surroundings are completely different, too.
There aren't as many people on the beach because its a bit further away from the closest town on the island and there aren't many places to park a car near the beach. People that do come are mostly locals which live nearby and tourists with private or rented boats looking to relax in this hidden paradise. Also, the shallow waters of this beautiful sandy beach, stretch almost to the half of Lovrečina bay which makes it great for kids and non swimmers.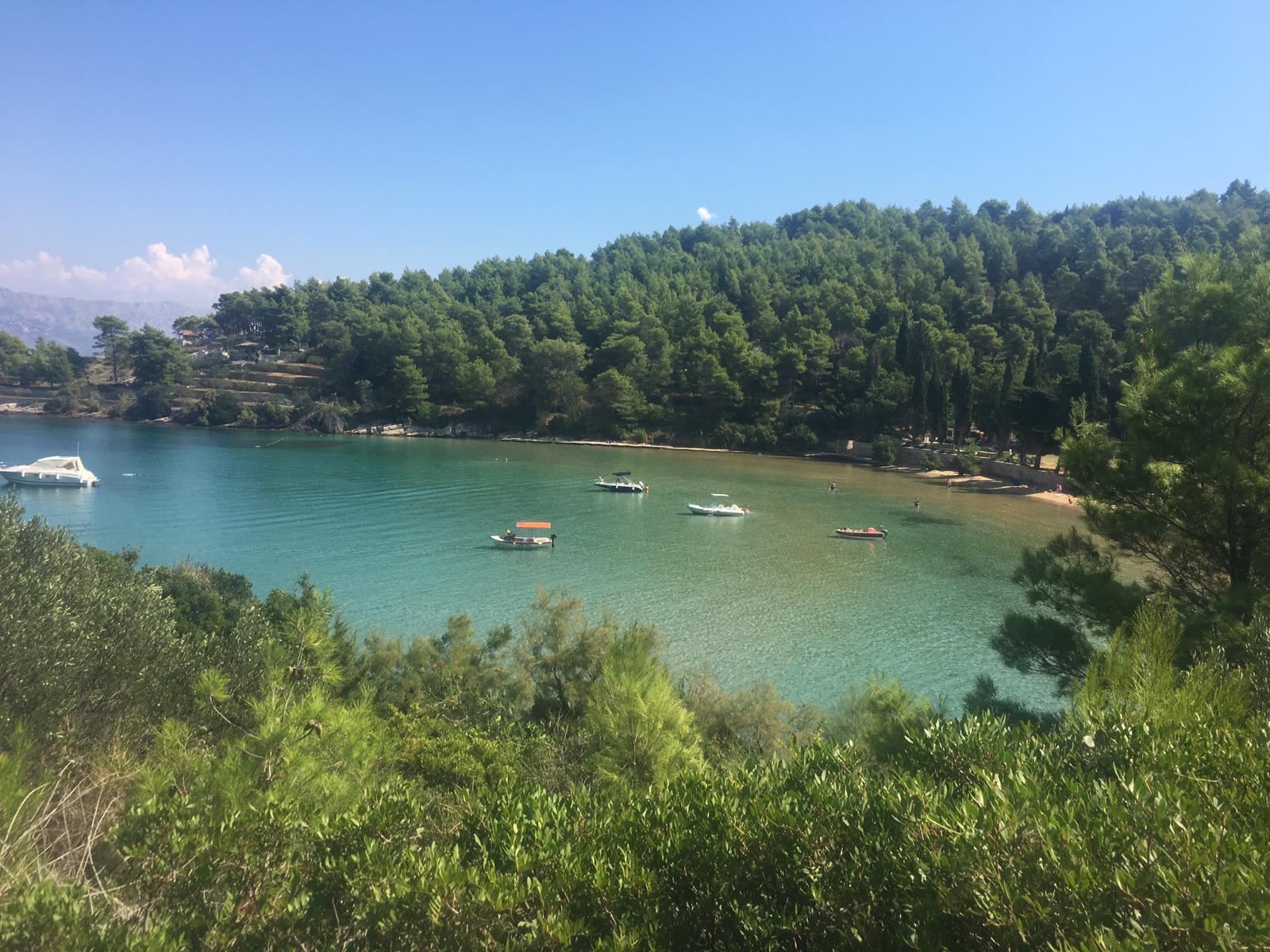 Lovrečina bay
4.) Devil's Islands is a group of islands, located in front of Hvar island. Despite Palmižana and Carpe Diem being the most popular, there are other beaches and hidden bays to pick from.
Although on our Five Islands Tour we visit popular Palmižana beach, if you want to have a secluded beach just for yourself, you would need to rent a boat . Not only that you can explore Devil's Islands from top to bottom but you can also find a beach on which you would be the only ones.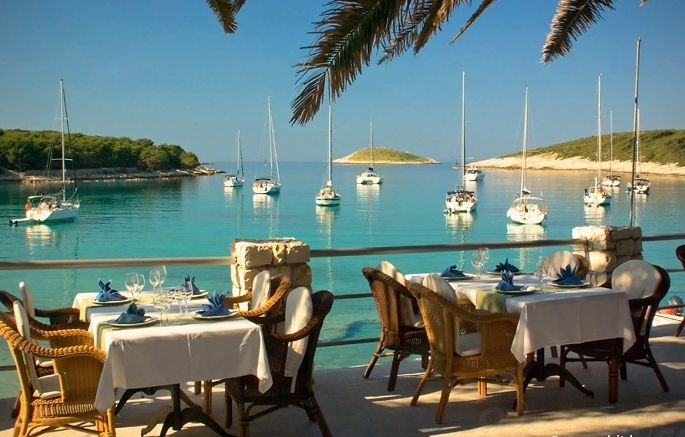 Palmižana beach - view from one of the restaurants
5.) Makarska riviera includes an area over 60 km long in the foothills of Biokovo mountain with series of long, mostly pebble beaches hidden in the shade of pine trees. Main tourist and economic centre of the region is town of Makarska. Besides Makarska, you have plenty of secluded bays in the area where you can find a little bit of privacy as well as beautiful beaches in towns of Brela, Baška Voda, Tučepi and Podgora which are known as some of the best beaches in Croatia.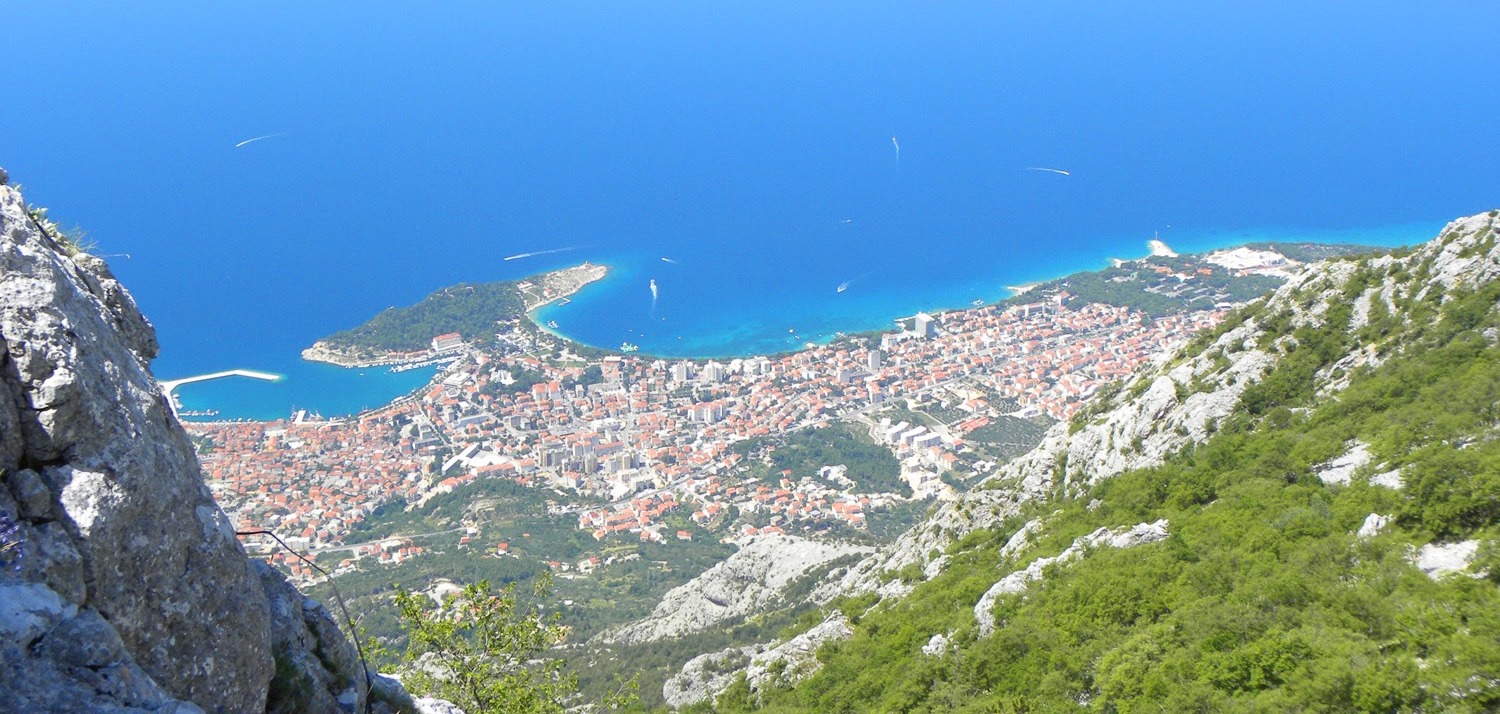 View of Makarska from mountain Biokovo
6.) Zrće is long pebble beach on the island of Pag. Although beach by itself provides plenty of space and crystal clear sea, it is know as the one of the best party beaches in Croatia packed with young crowd, clubs and caffe bars. It is also known as Croatian Ibiza since parties last all day long. If you're looking for place to stay while visiting Zrće beach, Novalja is the closest town located 4 km away from this party madness.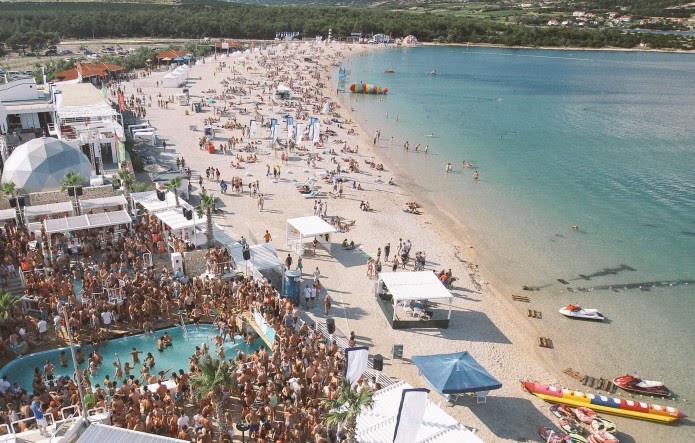 Zrće - party beach
7.) Bačvice beach is U shaped bay surrounded with promenade, sandy shores and pine trees which makes it one of the most popular Croatia beaches. The best of all, it is located in town of Split, close to the center. It is popular as family destination since it is very shallow which makes it great for kids and game of "Picigin" which originates from this very same beach. Cafe bars and night lights draw people from the town and surrounding streets, even after sunset.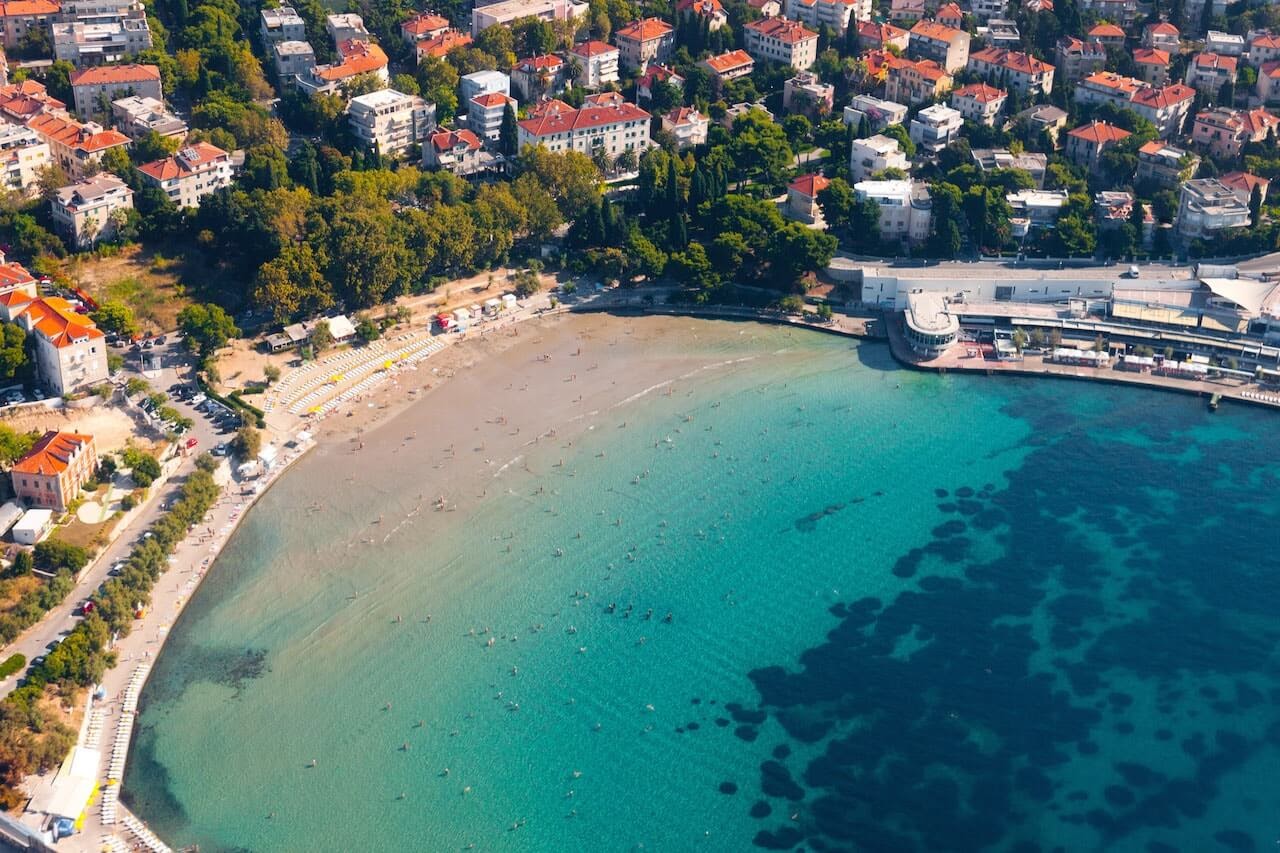 Bačvice beach
8.) Sakarun beach is located on the northwest side of Dugi island or Long island, when translated from Croatian. Due to its white sand, clear sea and pine forrest which surrounds the beach and gives its visitors so much needed shade, it got on our list of top beaches in Croatia. Sakarun beach is 800 meters long and at 250 meters off the shore, the depth is only 3,5 meters thereby providing wide and shallow area for swimming, especially for kids. Around the beach you have few restaurants, while you can find apartments in surrounding places such as Veli rat, Verunić, Soline i Božava.
9.) Sandy beaches of Omiš are a group of beaches surrounding this old pirate stronghold. Omiš is located in Dalmatia, 25 km away from Split. Not only that the main city beach is smaller version of Copacabana but also the beaches in the camp and the ones at the west entrance to the town are all made of sand with shallow sea level and several caffe bars, restaurants and palm trees which provide shade to diverse group of visitors.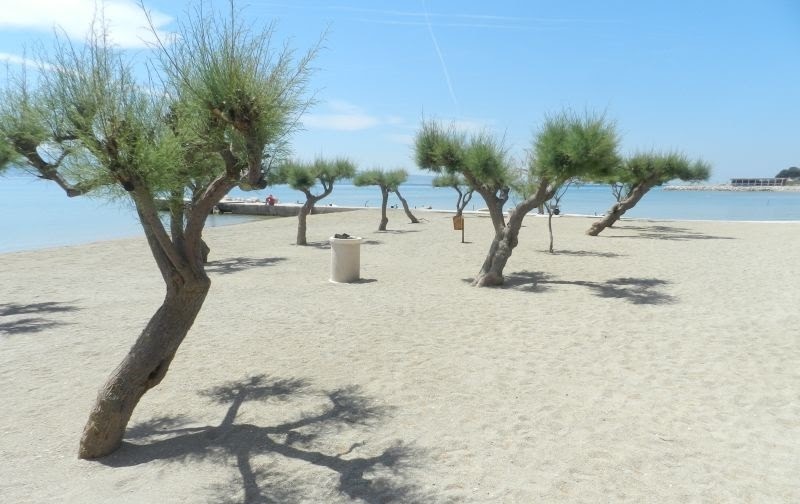 Sandy beaches of Omiš
10.) Banje beach is one of the most popular Croatia beaches and number one beach in Dubrovnik. It is located near the center and old city walls. However, due to long flight of stairs, it is not accessible to the handicapped and those in poor physical condition. Marvelous view of the old town and the beautiful unsettled island of Lokrum is a unique quality of this famous beach. Also, as the day nears its end, beach turns into the most desired place for an elite night out.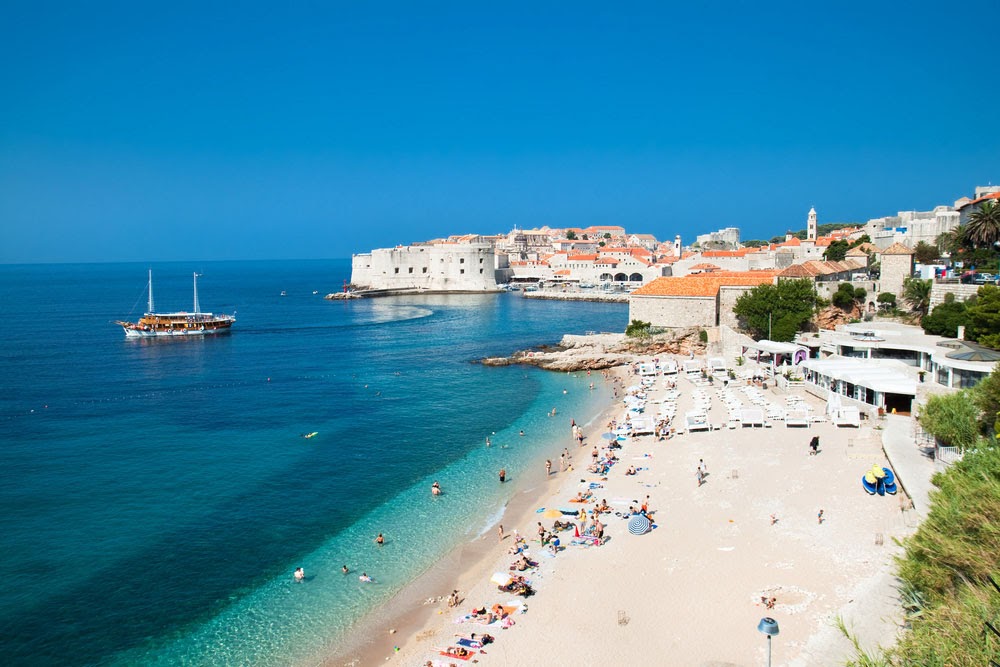 Banje beach at Dubrovnik
Best Beaches in Croatia - Honorable Mentions
Besides these top beaches in Croatia, there are several more that are worth mentioning since they almost made it on our top 10 list. These includes Queen's Beach in Nin with the views of Velebit mountains across the sea, majestic moon-grey crescent of Spiaza beach at Susak island, charming Dubovica bay and Grebišče beach on Hvar island.
The list wouldn't be complete without hidden islet of Proizd, hard to get Šunj bay, romantic Valalta Resort near Rovinj as well as remote Divna beach on Pelješac peninsula, Paradise beach at Rab island and charming Stončica bay on island of Vis. 
Croatia Beaches: Boats \ Transfers \ Private Tours
We offer service of transfers, boat rentals and private tours. Since some of these top beaches are located on the islands such as Brač, Vis, Hvar, Pelješac and Dugi otok, you need some kind of boat. It is up to you whether you want just a transfer to your favorite beach or you want to rent a boat for yourselves, join an excursion or book a private tour.
If you want to visit or relax on some of the beaches located on the mainland, you don't need a speedboat. In this case, cars and minivans are more than enough. If you want to relax on some of the top beaches in Croatia, don't hesitate to contact us.
Croatia Beaches - Check the Pictures & the Map
We marked best Croatia beaches with red. Other beaches which didn't make it to our top 10, even though they were close, are marked with blue on the map. Click on the mark, scroll through the pictures and find your favorite beach.

---
---