Check our guests reviews on Tripadvisor & their experience on Instagram


Ferry from Split to Vis: Inexpensive Blue Cave Trip
Ferry from Split to Vis is the best option for Blue Cave Trip, if you're on a budget. However, it is not as simple as it sounds and you might need two days for this kind of trip. Let us explain.
There is no direct boat line from the mainlaind to island of Biševo, where Blue Cave is located. Instead you need to take a ferry from Split to island of Vis and find additional transportation to reach the cave.
Although ferry covers most of the Blue Cave Trip, you have a lot of traveling ahead of you. To show you what to expect, we divided the trip in three stages:
Hop on a ferry to Vis from Split's port
Take a bus, taxi or rent a car/scooter in Vis to reach Komiža
Find local agency or rent a boat in Komiža to visit Blue Cave on Biševo island
Boats from Split to Vis: Your Options
There are several ferry companies in Split but the main one is Jadrolinija. Jadrolinija provides regular boat line with a ferry from Split to Vis and back. However, the frequency and schedule changes, depending on the time of year, due to summer season.
Usually, the ferry goes once in the morning and once in late afternoon from Split to Vis. During peak of the season, ferry goes three times per day. You can buy the tickets in their office at Split's harbour or online at their webiste.
Also, it takes about 2 hours and 30 minutes from Split to Vis with a ferry.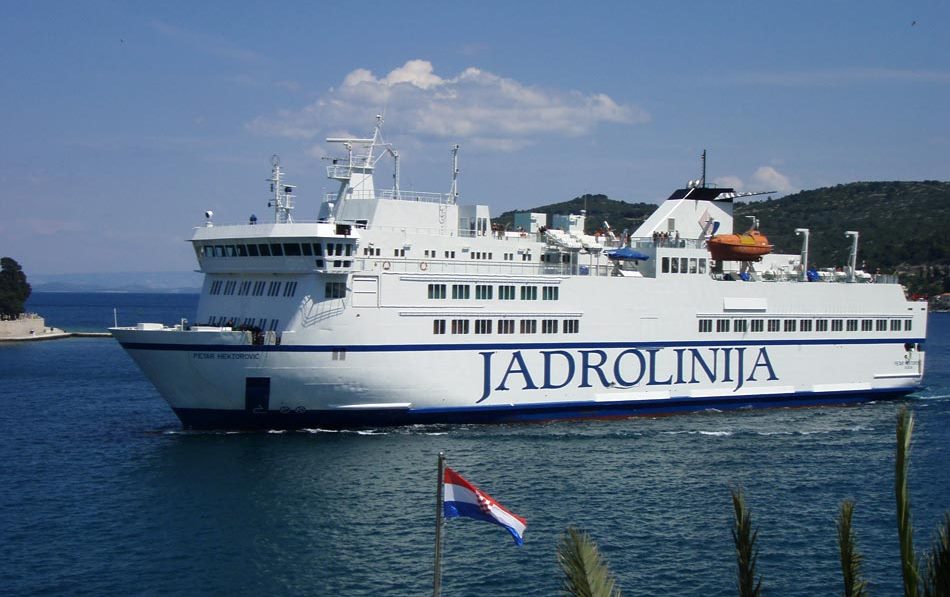 Ferry arriving to Vis harbour
Catamaran from Split to Vis
If time of departure isn't important for you or you are traveling on foot, without the vehicle, you can opt for catamaran. Goverment decides which company gets the right to provide fast boat line service from Split to Vis.
Usually, either Jadrolinija or MB Kapetan Luka, also known as Krilo, provide high speed connection with Vis island, besides Jadrolinija's ferry line.
However, direct catamaran line from Split to Vis is only available during summer season and catamaran goes once per day. On the other hand, catamaran needs only 1 hour and 30 minutes from Split to Vis.
Find a Transfer to Komiža
Since catamaran and ferry from Split to Vis stop at the town of Vis on the island of Vis, you need to reach other side of the island and town of Komiža. While town of Vis is located on the north-east side of the island, Komiža is located on the west side of the island.
Why is this important you ask? Because most local tour companies that sell Blue Cave Trip to Biševo, start from Komiža. Komiža is the nearest town and local transportation hub, closest to Biševo island and Blue Cave.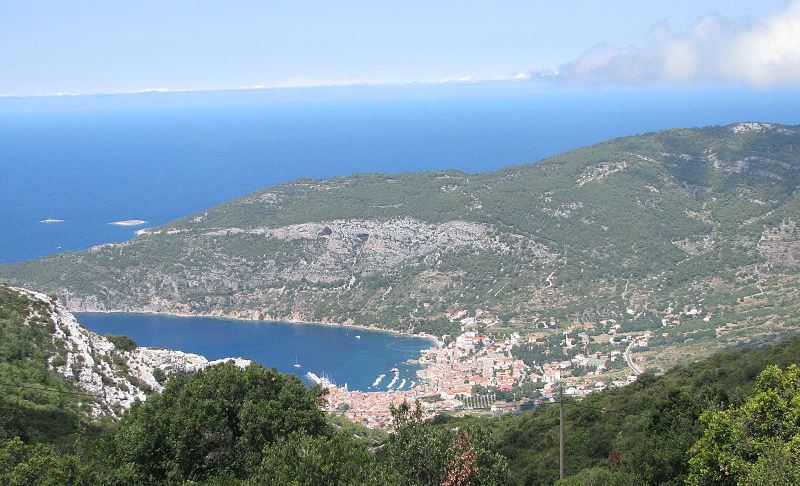 View of Komiža from mountain Hum
Luckily for you, there are several options to travel from Vis to Komiža. If you arrived with your own car or a scooter, you just disembark from the ferry, follow the signs or ask for directions and drive to Komiža.
If not, you can always wait for a local bus, take a taxi, rent a scooter or a car from local company. Keep in mind that there aren't that many rent a car/scooter companies or buses on the island, as Vis is quite far away from the mainland.
Book Blue Cave Trip from Vis
If you thought that hopping on catamaran or a ferry from Split to Vis was the only boat you will need to visit Blue Cave, you weren't paying attention.

When you finally arrive to Komiža, you need to find a boat to reach Blue Cave. You can either book a private tour or a regular excursion with one the companies selling excursion to Blue Cave, from Komiža.
If you have a skipper liscence, you can even rent a boat and sail to Biševo by yourselves.
That being said, you need to know that you won't be able to enter Blue Cave by yourselves. You have to buy the ticket(s) and wait for your number to come up. Afterwhich, the staff which manages Blue Cave will take you and other guests with a small boat inside the cave for sightseeing.
However, if you rent a boat and drive it by yourselves, you can visit other locations, caves and beaches around Vis. Renting a boat with a skipper would be easier option since you won't need to worry about the map, GPS, sea conditions or maritime laws.
Ferry from Split to Vis: Spend a night on the island
If you want to visit Blue Cave or travel to Vis by ferry or catamaran, our advice is to spend at least one night on the island.
The main reason is the fact it is almost impossible to travel by ferry to Vis, reach Komiža, visit Blue Cave and come back to Split with a ferry, all in one day. Even if you would be able to accomplish this, it would be rushed and in the "nick of time." Why would you spend your vacation like this?
Instead, if you spend atleast one night, or let alone a week on the island, you would have completely different experience. You could visit Blue Cave at the time which suits you, enjoy in sightseeing of other caves, beaches, small towns and hidden gems of Vis island. 
Is it worth it?
Since you need to organize this kind of Blue Cave trip by yourself and it requires quite a lot of time, people most often question if it's worth hopping on a ferry from Split to Vis? It depends.
If you want to see as much as possible and get the most of your day, during your visit to Croatia, consider joining Five Islands Tour or booking private Blue Cave Tour. With these two, you can visit Blue Cave and other top attractions on mid Adriatic islands, all in one day.
On the other hand, if you got some time on your disposal, consider spending a night or two on the island. You would be able to explore and experience most of islands secrets, while saving some money during your vacation.
If you aren't in a rush, the best option would be to spend a week on the island and take your time exploring all the local attractions, caves, beaches, towns, coves and becoming an "islander" for a week.
In this case, cost of the ferry from Split to Vis would be just one part of your expenses. At the end of the day, it is up to you to decide which type of Blue Cave trip suits you best.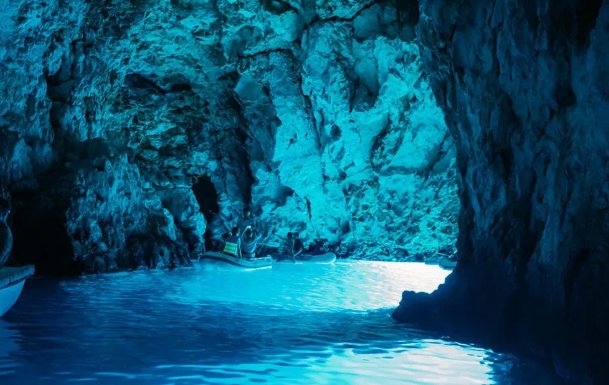 Blue Cave
---
---