Check our guests reviews on Tripadvisor & their experience on Instagram


Private Blue Cave Tour: Custom made
Private Blue Cave Tour is the most popular enquiry when it comes to custom made excursions. Not only that you have a boat just for yourselves but you can also choose which places you want to visit and how long you want to stay in each one.
Although you can start at the time which suits you best, we recommend that departure time is between 7:00 and 7:30 AM, in case you are visiting Blue Cave in July or August. This is peak season and there is higher influx of visitors at the Blue Cave.
If you are visiting in pre or post season, departure time can be a bit later. However, no latter then 9:00 AM. Afterall, Vis archipelago and Blue Cave are about 1 hour and 30 minutes away from Split, by speedboat.
Benefits of Private Blue Cave Tour
Besides choosing your time of departure, there are other benefits of private Blue Cave trip:
We can pick you up at your accomodation, if there is hotel marina or nearby pier. This service is free of charge if your pick up point is in Split.
We can drop you off at your accomodation, at the closest suitable pier. This service is free of charge if your drop off point is in Split.
You can choose how long you want to stay in each place.
You can choose which caves, beaches, towns and hidden coves you want to visit on your route. Route for Blue Cave Tour includes Vis archipelago, Hvar and Hell Islands.
You can choose which speedboat you want to rent. Whether it is midsize, delux size boat or a luxury yacht.
Our skipper makes sure you have a great time, while you and your loved one(s) enjoy the tour.
Bring your favorite music on USB and listen to it via onboard music system, during the tour.
There is an option of adding special snacks or drinks based on guest's desires. This service costs extra.
If you would like to have lunch on some of mid Adriatic islands, our skipper will help you choose the best restaurant for your taste.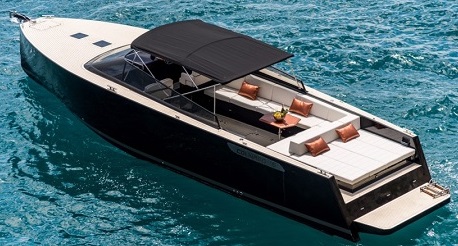 Choose your boat
Vis Archipelago
Having a free time to explore Vis archipelago is one of the best features of private Blue Cave Tour. Not only that you can visit Blue Cave but you can also explore numerous other caves on Vis and sourranding islands.
There are actually about 26 caves in Vis archipelago from which Monk Seal Cave, Green Cave and especially Blue Cave are the most well known.
There are also many stunning beaches, hidden coves, peaceful lagoons and charming places in the area. Porat beach, Stiniva Cove, Budikovac lagoon and Stončica bay are just some of them.
Besides natural wonders, you can visit secret military tunnels of Yugoslavian navy which were used to hide the ships and submarines. If you would like to experience the life on Vis or meet its inhabitants, we recommend visiting town of Komiža which is located on the west or town of Vis on the island Vis which is located on the north side of island.
Hvar & Hell Islands
After exploring diverse natural and historical wonders of Vis archipelago, we are off to Hvar and Hell Islands. Hell or Paklinski Islands, which are located just infront of Hvar, are our first destination.
The name comes from the fact that this small group of islands has the highest number of sunny days, during the year. There are also numerous beaches and hidden coves that we can visit.
That being said, two of the most popular are Palmižana and Carpe Diem beach which are also the most visited thanks to its restaurants, lounge bars and nice beaches. After relaxing on Hell Islands, private Blue Cave Tour continues towards Hvar.
Hvar town on Hvar island is know as the most popular destination on mid Adriatic, after Split. It is authentic mediterranean town with long history, beautiful architecture and warm climate as well as plenty of beaches, hotels, bars, restaurants and tourist attractions.
However, the one you have to visit, besides the old town, is the fortress above the city which provides marvelous view of Hvar and Hell Islands.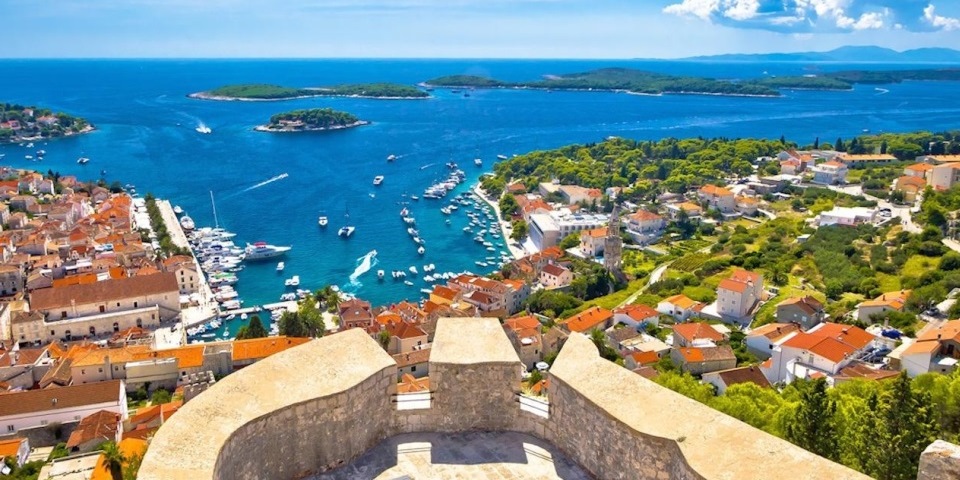 View from Hvar's fortress
Word of Advice
Since this is a private tour, you're not bound by fixed time schedule. We advise you to use this benefit of private Blue Cave Tour to the fullest.

Whether you want to swim longer at Stiniva Cove, Green Cave or Stončica bay, visit town of Komiža, have more time at Hell Islands or explore Hvar town at your own pace.
That being said, return time back to Split is usually till 19:00 - 19:30. It depends on the month, that is, when the sun sets.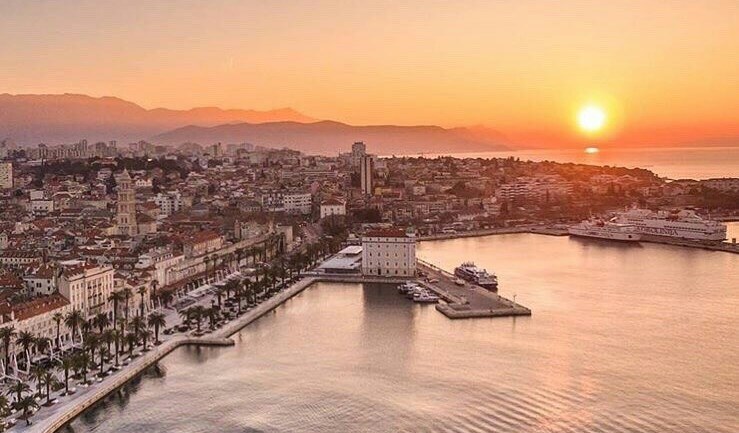 It is best to start early with Blue Cave Tour
Groups & Families: Cheaper Tour
Another benefit of private tour is its price, in case you are a group of atleast 7 or 8 people. Since you pay for the boat, fuel and the service as one, when you split the cost, you might be surprised that price per person is cheaper than price of regular Five Islands Tour.
On top of that, you have a boat just for yourselves, while our skipper takes care of the rest. That being said, total price depends on the boat you choose. It is not the same if you choose to reserve midsize or deluxe size boat for your private Blue Cave Tour. Obviously.
Also, capacity of each speedboat varries. However, max capacity even for big speedboats is limited to 12 passengers because of Croatian maritime laws.
---
---
For quick answer contact us via Whatsapp or Viber on:
+385 98 907 8068
---
---