Check our guests reviews on Tripadvisor & their experience on Instagram


Zlatni Rat beach: Half Day Speedboat Tour
Zlatni rat, also known as Golden Horn and Golden Cape, is the most popular beach on this side of the Adriatic. With its unique shape, Hvar channel in the front and the mountains in the back, it provides picturesque landscape and perfect destination for different water and windsurfing activities.
Besides visiting Golden Cape beach and town of Bol, you can also enjoy in speedboat tour along the Adriatic islands and make great pictures to show your friends and family. On top of that, we stop on a surprise destination during our trip back to Split.
Half Day Tour to Bol & Zlatni Rat beach
Half day speedboat tour goes every morning from Split at 7:30 AM and returns back to Split around 14:15 PM. We arrive to Bol around 9:00 AM after which you have 1 hour of free time for breakfast, coffee break or for exploring this little seaside place on Brač Island.
Since Bol is situated only 2km away from Golden Horn, we have reserved you a seat in the little panoramic train that takes you to the beach. At Zlatni Rat beach you have free time (2hrs 30mins) to enjoy, swim or try some of the water activities, such as jet-ski, tube, parasailing, that are provided from our partners.
We sail back to Split around 13:00 o'clock and on our way back, we stop for a surprise destination.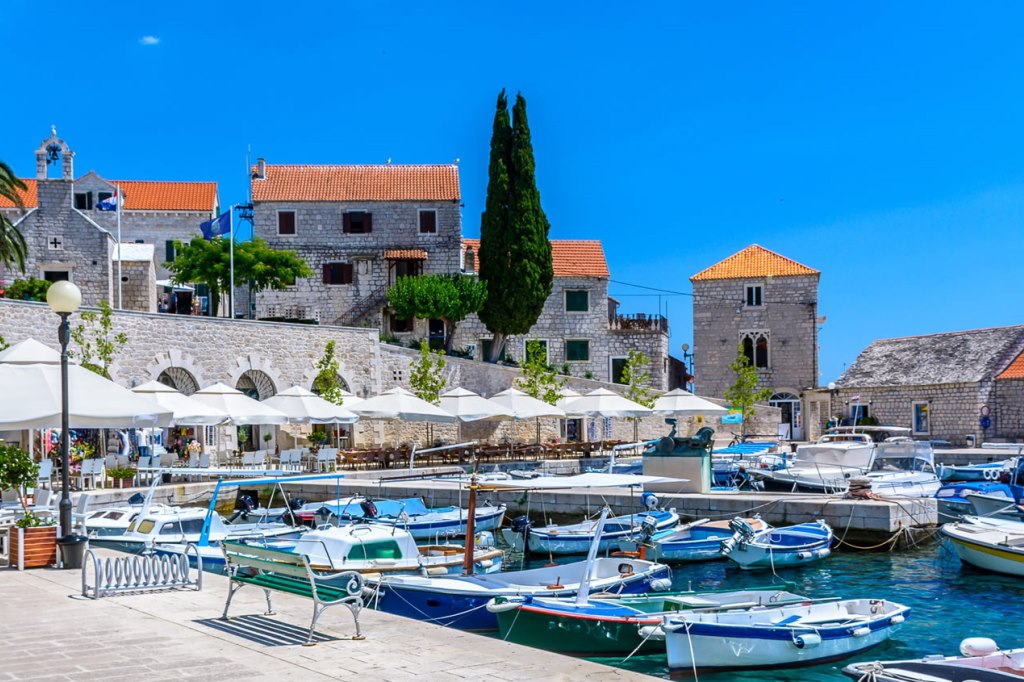 Bol port
Bol on Brač island
Bol is small, charming town and the only settlement on the south side of Brač island with many bars, restaurants and sightseeing locations.
On the eastern side of this popular tourist destination you can visit pebble beach, Dominican monastery and its museum with rich archaeological collection.
In the city center, you will find sculpted old buildings such as Baroque mansion, the parish church of Our Lady of Carmel and Renaissance-Baroque palace where an art gallery is located.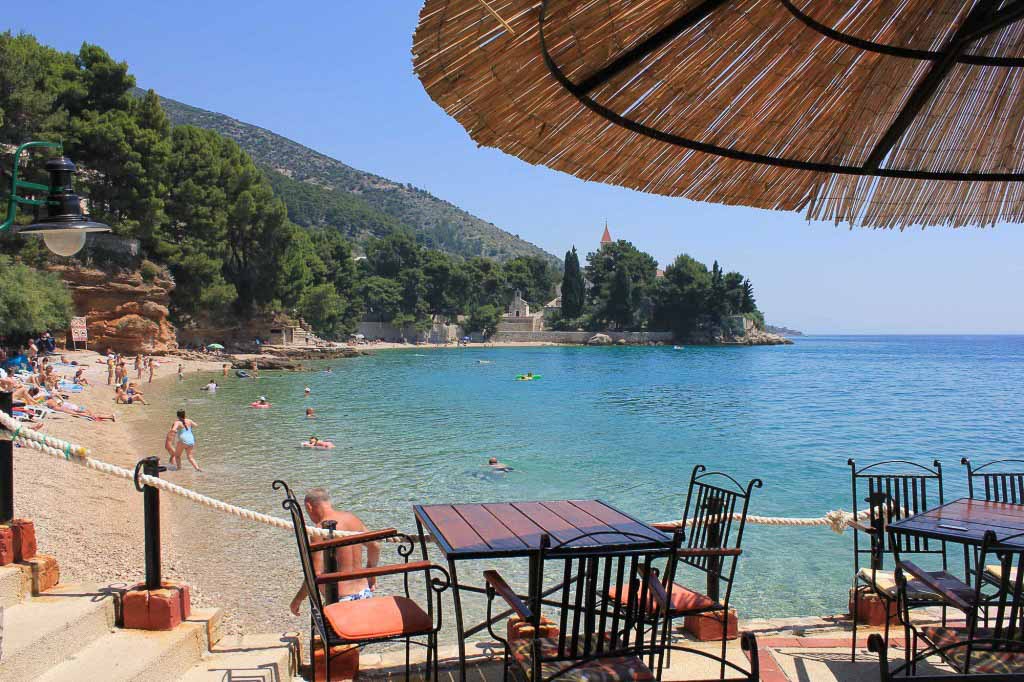 East side of Bol with Dominican monastery in the background
The Promenade
After exploring the town, we recommend either hopping on a panoramic train to Zlatni Rat beach or taking a stroll along the promenade which will take you to the Zlatni Rat beach.
Promenade provides many locations for picturesque views of the shore as well as plenty of bars and kiosks where you can buy some snacks along the way, enjoy the scenery or buy some souvenirs.
However, if you don't want to walk 20 minutes from the town to the beach, we have reserved you a seat in the little panoramic train that takes you to the beach.
Bol Promenade
Golden Horn beach

At the end of the day, although Bol is one of the most popular cities among mid-Adriatic islands, the most interesting part of the town is its west side and the most famous beach on this side of the Adriatic, Zlatni Rat. 
Covered in small golden pebbles, beach protrudes over 500 meters out into the Adriatic Sea. Its shape changes with sea currents and winds which provides opportunities for enjoying in different water and windsurfing activities.  
Zlatni Rat is surrounded by deep blue and turquoise sea, while center of the beach is covered with forest, restaurants and beach bars. On the beach, you can rent a jet-ski or join tube and parasailing activities.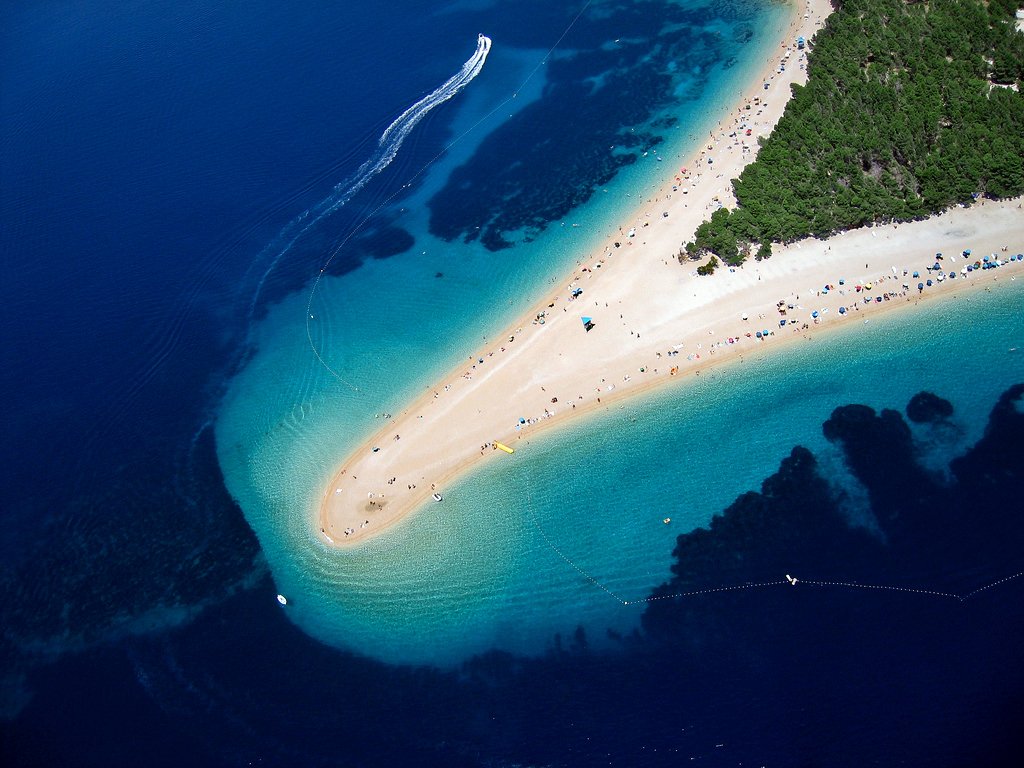 Zlatni Rat
TOUR MAP
SCHEDULE
Half day speedboat tour to Bol and Golden Horn beach goes every morning from Split waterfront:
- DEPARTURE FROM SPLIT 
7:30 - 7:40
- ARRIVAL TO BOL 
8:40 - 9:00
- FREE TIME IN BOL TOWN
TILL 10:00
- FREE TIME ON ZLATNI RAT BEACH
10:15 - 13:00
- DEPARTURE BACK TO SPLIT
13:00
- SUPRISE DESTINATION ON OUR WAY BACK
13:30 - 13:50
- ARRIVAL BACK TO SPLIT
14:15
*Schedule may be adjusted due to weather conditions in compliance with the guests of the tour.

INCLUDED
English speaking crew, safety gear, snorkeling equipment and water are included in the price of the tour.
USEFUL TIPS
Here are couple of items you may want to bring with you:
Bathing suit, towel, sunglasses, sunscreen, hat, additional clothes for change and money if you want to buy souvenirs, snacks or try windsurfing and other water activities on Golden Horn beach. 
---
CHOOSE YOUR TOUR
While booking the tour of your choice, you pay only deposit to reserve your place on the boat. The rest you pay on the day of departure, before boarding the boat.
Loading...
---
For quick answer contact us via Whatsapp or Viber on:
+385 98 907 8068
---
---