Half Day Blue Lagoon Tour with a speedboat
Blue Lagoon Tour is the most popular half day speedboat excursion from Split. Not only that we visit the best spot for swimming and snorkeling on the mid-Adriatic islands but we also stop at one or two more places, depending on the time and the guests wishes.
Besides Blue Lagoon, we stop at Čiovo or Šolta, usually in Trogir for sightseeing and Laganini Beach Bar for relaxing in a beach bar. 
Why Blue Lagoon Tour?
If you don't have that much time or you don't want to go on full day tour, half day Blue Lagoon Tour is the best option for you. 
We go with a speedboat which takes around 20 to 30 minutes to our first destination, while the entire tour lasts around 5 hours. On the tour you have plenty of time to enjoy in each place, whether you prefer swimming, snorkeling or sightseeing. 
You can also choose between morning and afternoon tour, whichever suits you best. On the boat you have free drinks and snorkeling equipment.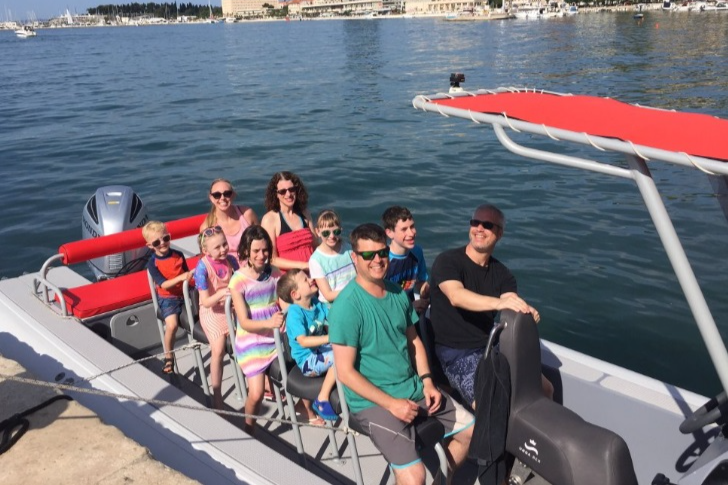 Our guests
1) Trogir - UNESCO heritage site
Trogir is small gorgeous town under protection of UNESCO. It is fronted by a wide seaside promenade lined with bars, cafes and yachts in the summer. 
In the city centre, different periods and styles of architecture intertwine which can be seen on the fortresses, churches and palaces . We can thank greeks, byzantines, french, austrians and especially venetians for diverse and rich history of the town.
Trogir is also called, a small Venice. Not just because of the Venetian influence but also due to narrow streets, wide squares as well as bridges and channels which surround this historical city.
2) Blue Lagoon
Our second destination is highlight of the tour. It is secluded lagoon surrounded by two small islands (Krknjaši) and Drvenik. Because if this, Blue Lagoon Tour is sometimes also called half day 3 islands tour. 
Blue Lagoon is picturesque location perfect for swimming and snorkeling, thanks to crystal clear water and shallow sandy sea bed.
We stop at the pier on Drvenik island. From there you can go to a restaurant, swim in turquoise lagoon or take the masks from the boat and go snorkeling. 
3) Laganini Beach Bar
Laganini Beach Bar is great place for relaxing on the sun and enjoying the view, while drinking a cocktail or having a nice meal. You can sit or lay on the chairs, beds and sofas with your friends and family. 
Laid back atmosphere of the place and the way it is arranged, combined with great service and fair prices is the thing that sets it apart from the rest.
You can also go for a swim in crystal clear sea since Laganini Beach Bar is located just next to the sea. The unique magic of this place fits perfectly in the overall feel of Blue Lagoon Tour.
TOUR MAP
SCHEDULE
Blue Lagoon Tour goes twice per day (from 09:30 till 14:15 and from 14:30 till 19:15):
DEPARTURE FROM SPLIT                               9:30 / 14:30
FREE TIME IN BLUE LAGOON                           1 h : 15 min

FREE TIME IN TROGIR                                   

1 h : 15 min

FREE TIME AT LAGANINI                                 

1 h : 15 min
RETURN BACK TO SPLIT                              14:15 / 19:15
*Schedule may be adjusted due to weather conditions in compliance with the guests of the tour. 

INCLUDED
Skipper, safety gear, snorkeling equipment, water and fruit juices are included in the price of the tour.

USEFUL TIPS
Here are couple of items you may want to bring with you:
Bathing suit, towel, sunglasses, sunscreen, hat, additional clothes for change and money if you want to buy souvenirs, food or cocktails. 
---
CHOOSE YOUR TOUR
While booking the tour of your choice, you pay only deposit to reserve your place on the boat. The rest you pay on the day of departure, before boarding the boat.
Loading...
---
For quick answer contact us via Whatsapp or Viber on:
+385 98 907 8068
---
If you find splitexplore.com helpful, please share it, tweet about it or comment below. It helps us grow. Thank you!

New!

Facebook Comments


Add a comment or write a review of your tour with SplitExplore.